The $100 in-ears headphone market is a busy spot, with many companies offering alternatives, including the frequently recommended Shure SE-125s. Yamaha too is joining the party with the brand new EPH-M100 In-Ears, and they are already shipping from Amazon.com and other places. This post is a pictures-and-text unboxing. A separate "Review Diary" (like the one we did for the Shure SRH-145) will go live a couple of days later…
The box is 8×5 inches, and around 2 inches tall. You can see its front face (on a blue background) below…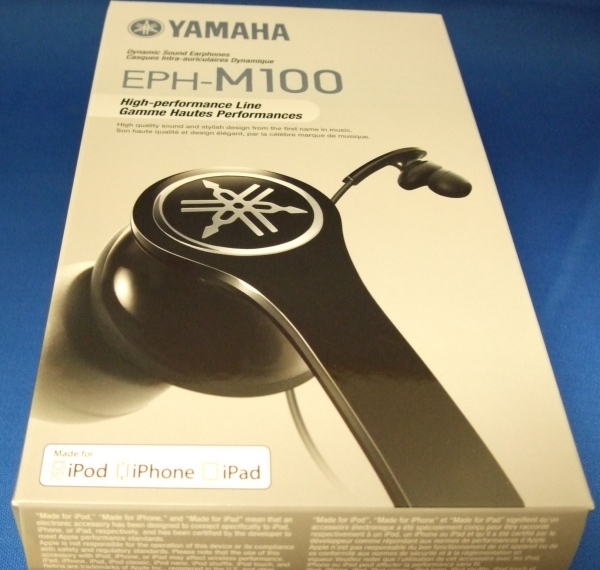 What's Inside the Box?
The side of the box shows some spartan specifications (28 ohm impedance) and a cable length of 4 feet (1.2 meters). The cable is non-detachable and it connects on each side. It is an MFi device (Made For iPhone/iPad/iPod), so it has the usual 3-button remote and mic.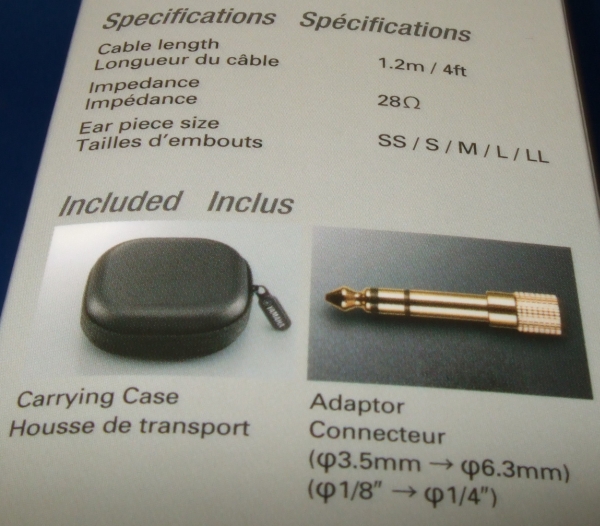 Yamaha EPH-M100 Accessories
The accessories for EPH-M100 are towards the practical side, not the luxury side, and they are:
zippered carrying case
five eartip sizes (one pre-installed)
1/4″ adapter (standard, no screws)
paperwork
Available in three different colors
The earphones you see in this post are black, but Yamaha sells them in three different colors, which you can see on the side of the box…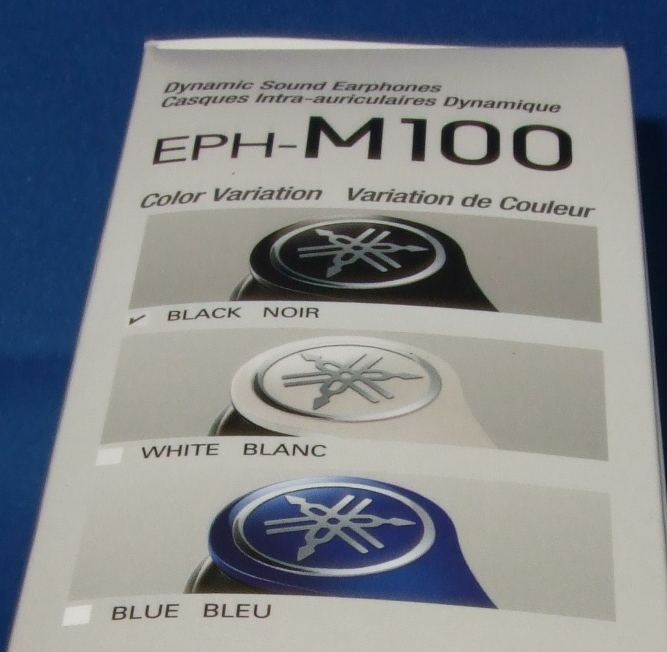 Opening the box
Nothing fancy in terms of presentation, you have the earphones on top, and underneath them, when you pull up the tab, you get the rest of the accessories.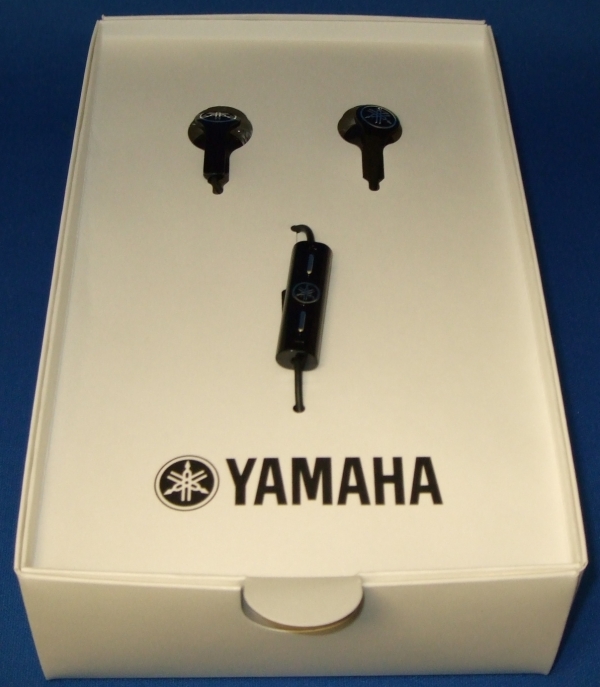 Below you see the zippered case and the four extra eartips (in their own sealed bag). The case is roughly a 3.5 inch square, and up to 1.5 inches tall (depending if it's zippered or not).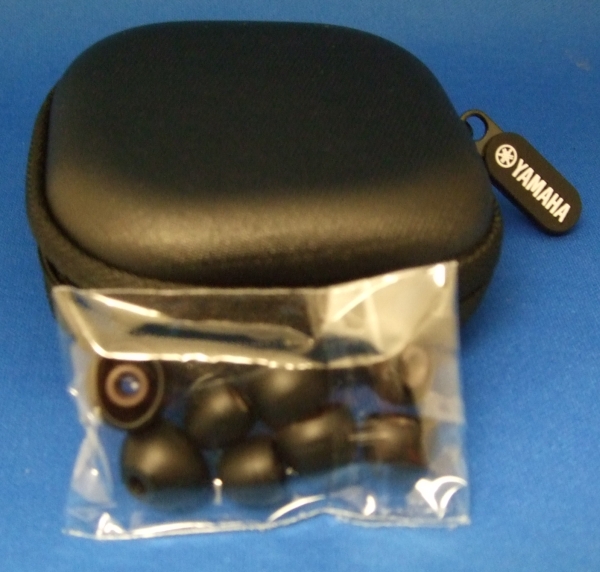 The case offers some flexibility for the case-a-holics. The left side has a velcro underneath at the top of the mesh part. The right side has no velcro, but offers flexibility. Upon opening, the extra eartips were found underneath the mesh on the right side.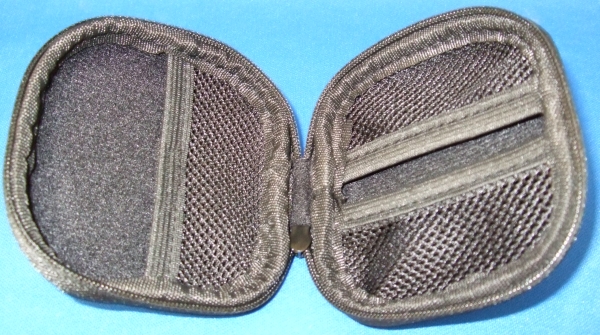 And here they are, the earphones resting on the user manual. As you can see, this is a shared user manual between the M100s and the M200s.
Below is the Left earphone, dangling upside down…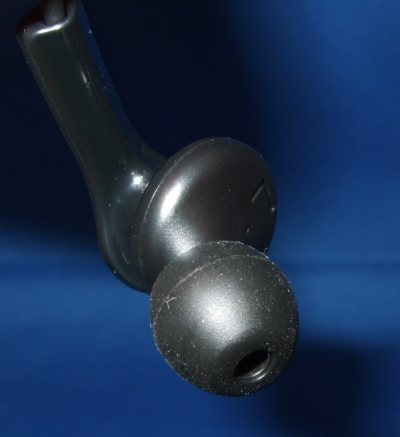 Here is the 3-button remote in all its glory, along with the 3-ringed plug. As you can see, it is a 90 degree angle.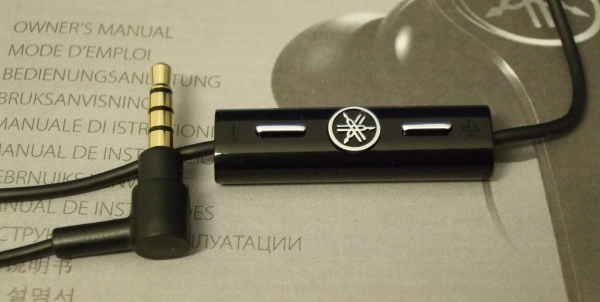 For a better sense of relative size, here are the earphones, with the remote and the plug…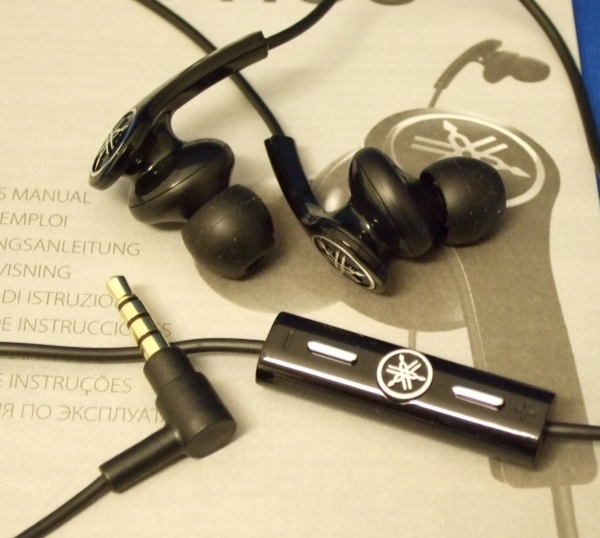 Wait, How Do They Sound, How Do They Feel?
Well, that's a very good question! You can find some answers to those questions at our Review Diary (the review will unfold on a play by play basis, like a diary).
If you have any questions about them, please leave a comment or using the online contact form!
Disclaimer
I did not purchase these. They are a review sample that will not be returned but will stay here for further comparisons and listening sessions.
Note: some of the earphones reviewed I purchase, others are review units. Some of the review units have to go back, others don't.