I was among those who jumped on Google Play Music right when it came out, and I was at the then-lifetime $8/month subscription rate. I am no longer there, I switched to Spotify a couple of years ago for a variety of reasons [including the need to support smaller companies as the Big Ones looked to be taking over music subscriptions]…
Anyway, Google made the Big Decision and Google Play Music is going away and the MP3 store at the Google Play Store is also going away and the stand-alone Music Manager software is also going away…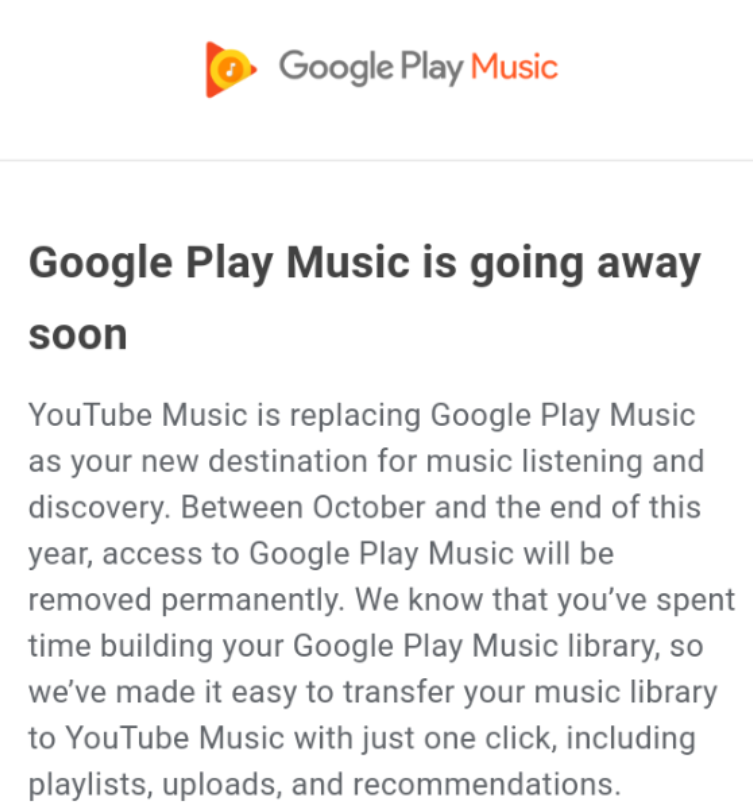 If you have music purchases and freebies and your own uploads and playlists you don't want to lose, you have to take action VERY SOON. I don't know if Google is planning to be strict on their deadlines, but if they are, do not waste any time!
The current plans call for Google Play Music (GPM) to be going away [losing access] in a phased fashion from September to December 2020. Once you lose access to GPM, you have 30 days to transfer/download, providing those 30 days happen before they completely pull them plug on the whole thing. In other words, DO IT NOW!
TASK #1: TRANSFER your MUSIC LIBRARY
The first task is to transfer your music library from Google Play Music to YouTube Music. Your music library consists of three parts, along with meta-data:
Your Purchases from the Music Google Play Store, up to 100,000 songs [if you have a MEGA library, that's another reason to do a full download as well]
the Freebies you got from the above store
your own music uploads: your own music files, up to 50,000 of them, you uploaded to your Google account
Your Playlists and "Stations": the actual lists; which songs will be playable on the other end is another story
TRANSFER SURPRISE: You MUST create a YouTube CHANNEL
The Transfer Process is explained in this support page. One rather bizarro thing is that you HAVE TO create a YouTube channel. I know, THAT'S CRAZY, but these are Google's rules and mayhaps the limitations of YouTube, because, after all, YouTube was created as a video-sharing site, not a music subscription site 🙂
If you have any private Playlists, they will be transferred as Private. If you are worried about your data leaking, when you create the YouTube channel, make sure you don't use your name but use whatever randomness you want to be shown. You can also select what data is shown. If you turn everything off, you will have a blank profile page. Still, it sucks BIGLY when they force you to create a social media page YOU DON'T WANT and you don't need.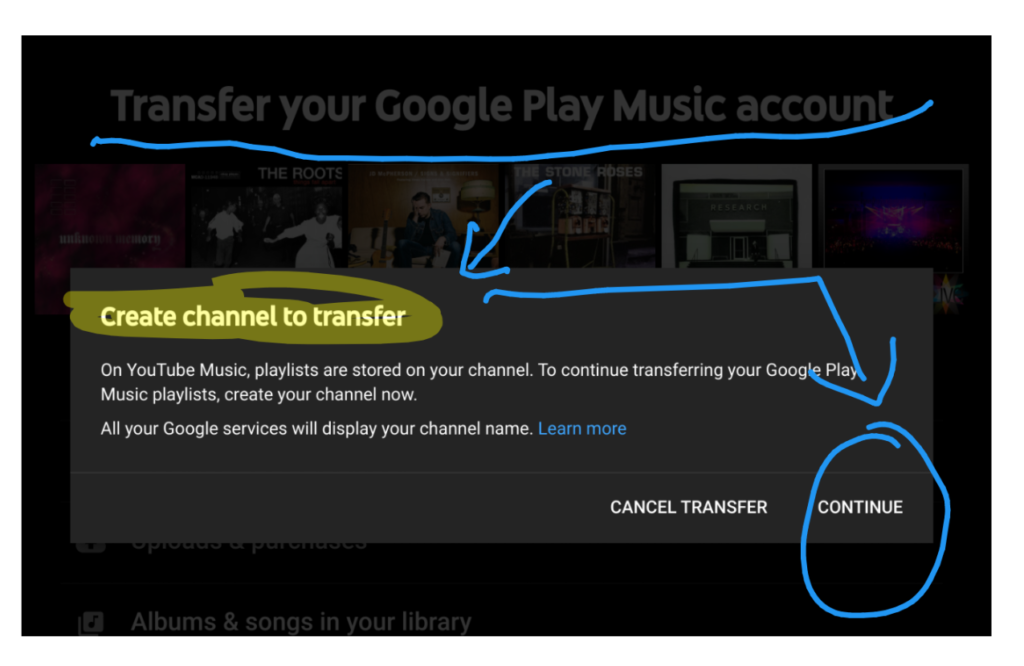 If that has not scared you away, you can start the process at the aptly named Music Transfer page. You can do this with a web browser or the official Google apps…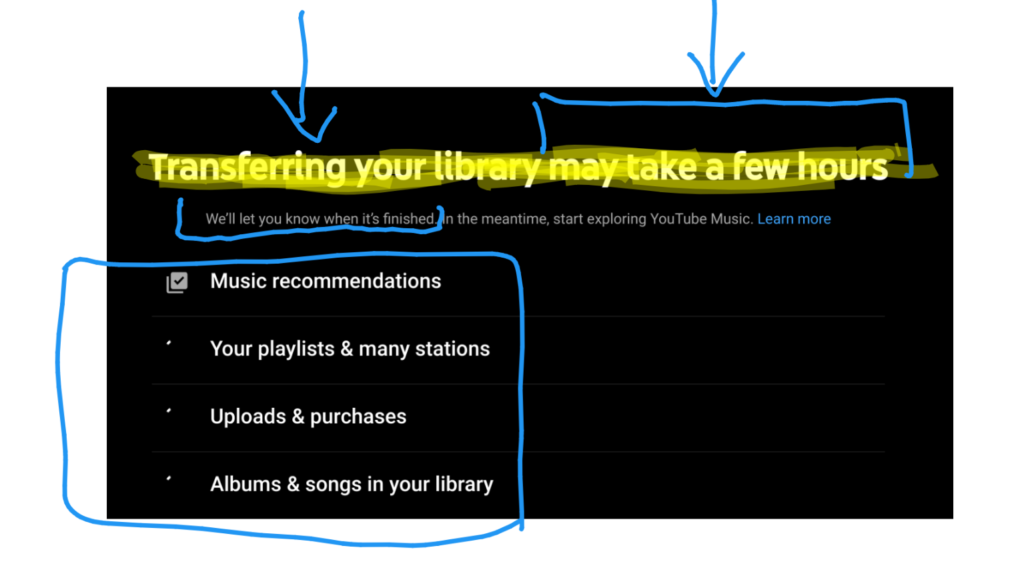 Once you start this process, you don't have to worry about closing the window or losing internet connection or turning off your computer. Everything happens behind the scenes at Google's servers, and when it's all said and done they will notify you [in-app or by email, etc, etc].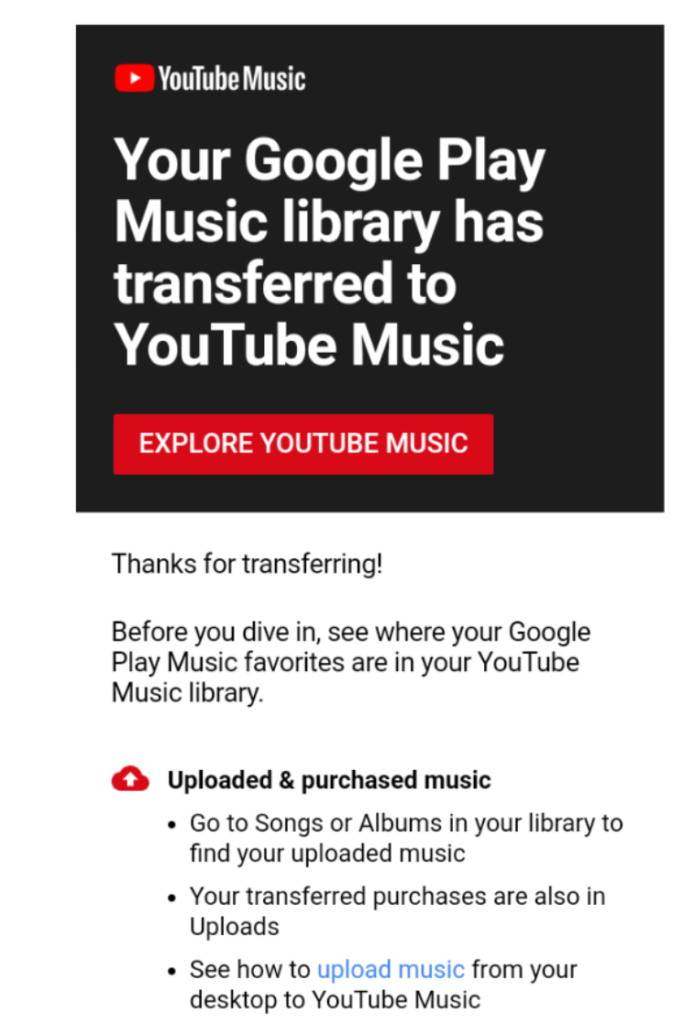 TASK #2: DOWNLOAD YOUR MP3 MUSIC FILES
If you miss this deadline, hope is not lost because you can also download your music later using Google Takeout or you can download individual songs or albums using the YouTube Music apps or website…
So why Download Everything if you are also transferring your library? There's very good reason. In addition to having backups, not all of your music is likely to be matched to YouTube Music. Even though they are both part of Google, they likely have different licensing schemes, which means some music may be left out in the cold. Plus some of your own uploaded music may not find matches or there might be multiple versions of a release [eg the 2011 Coldplay live EP/LP]…
To do this, you need the Google Music Manager which is available as a downloadable software package for Windows, MacOS and Linux and it also has a Chrome browser extension. On Windows [which is what I used] you have to first login to your Google account, and then select whether you want all your purchased music or everything-everything. For any issues, check their troubleshooting page.
How long it will take to download your music depends on various factors including:
the size of your music
your internet speed
your computer speed and storage speed
the Google server speed/state
Ideally you don't want your computer to be doing anything else during this and have it connected to AC power. If you have reliable Wi-fi, you don't need to get to the router with an Ethernet cable. Mine finished in 6-7 hours over Wi-fi without any issue.
Thankfully you don't get giant zip files like you would get with the Google Takeout 🙂 The files are downloaded in folders as mp3 files, organized by artist name and then albums as sub-folders to the artist. You can select which is the root directory of the downloads.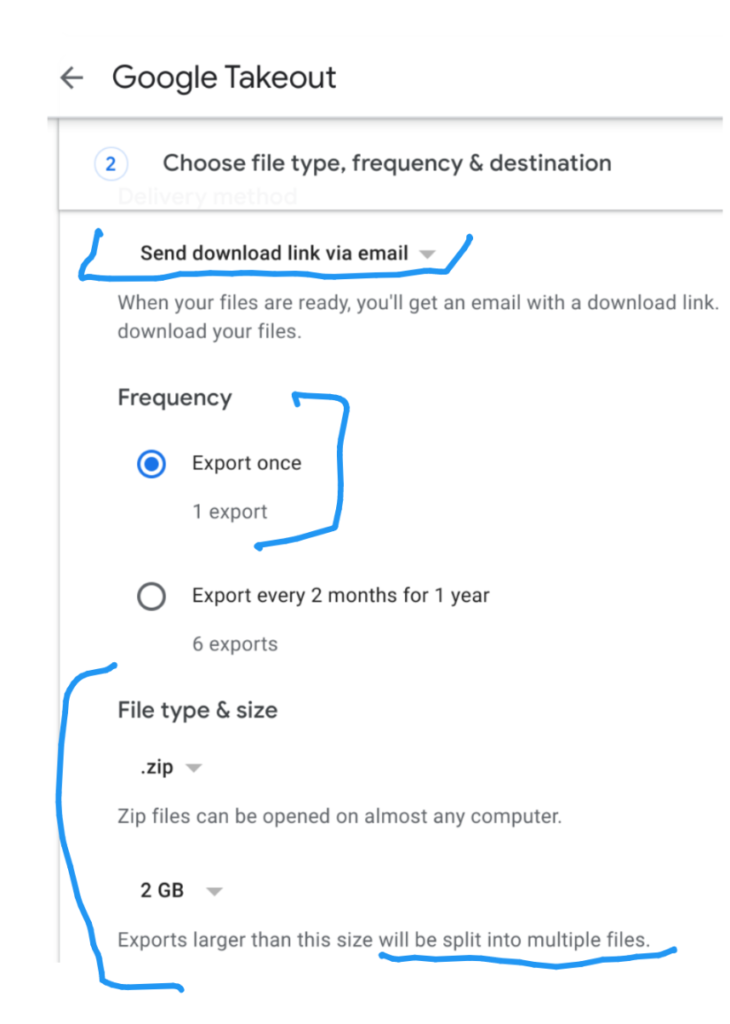 TIPS
Some other things to consider…
if you have music purchases, freebies, uploads and playlists/stations you want to save/backup on multiple Google accounts, you have to do this for every Google account you have
If you are doing the Download Everything with the Music Manager, make sure you have enough battery [best to do this when connected to AC power and a fast reliable Wifi/Ethernet], and you have enough storage space on your computer
YouTube Music does not offer the option to buy music BUT you can play music you don't own ~ the caveat is that you will be subjected to ads; but theoretically no ads on music you already own or your uploaded yourself
when I say "music files" above I mean audio files in general; they could be audiobooks, recorded podcasts, talks, etc