Another week flew by, another week my glorious procrastinations produced zero reviews on the blog 🙂 But we have a new installment of the weekly round-up, covering up to Sunday 4/24/17. The big drama story of the week was a lawsuit against Bose for allegedly harvesting and selling customer data through the Bose Connect app (iTunes, GooglePLAY). A lot of the headlines on mass media and clickbait-y websites said things like "your headphones are spying on you" which is not true ~ the app is spying on you, which is worse because it has access to more data 🙂 But the story was not big enough to make it to the Techmeme headlines 🙂
BIG BOSE is LISTENING
The story broke out on Reuters and was filed in the state of Illinois. Innerfidelity downplays the importance of this lawsuit since almost everybody else does it, but on the other hand, if we don't hold companies accountable for data hoarding without permission, they will not stop doing it or at least won't give us more control ~ or better yet, give us some profit sharing from whatever they make from our data and social graphs. Since they have very granular data on each person, they can easily calculate our profit share 🙂
A more detailed TL;DR (ha!) of the case is available at Ars Technica, where it is discussed vigorously in their Comments section. The Ars comments is more civilized than the typical internet comment section, and smarter too 🙂 For example, user HonkyLips came up with this Bose acronym: Buy Other Sound Equipment.
Adding of course to the drama is that Bose is currently #2 (behind Beats) in being disliked by a certain segment of the audiophile world for the combination of their prices and sound and popularity, which adds fuel to the fire.
And given that Bose is popular (or at least marketed) to the more affluent and business and management types, I would guess the data hoarding silos and advertising intermediates would be willing to pay top dollar for a prized demographic #CrackpotTheory 🙂
UPDATE: it looks like Bose has unleashed millennial customer support / damage control as they are responding to almost every 1-star GooglePLAY review of their "Connect App" with variations of this statement: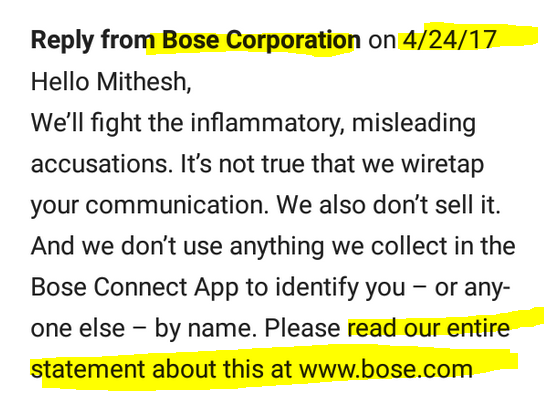 OPINIONS
Audiophiia is DEAD proclaims Stereophile. Mayhaps the article needs to be read with NIN as musical background 🙂
AXPONA and CAN JAM 2017
The AXPONA 2017 3-day show took place in Illinois, and it included an Ear Gear section featured prominently in their schedule. The following are reports from the event from various sources:
+ reddit user shares pictures
+ lots of coverage at Stereophile
+ AudioHead visits Audio Research and Sonus Faber, and more
+ Headphone Guru posted their tape-delayed Can Jam 2017 report and so did AudioHead
LOTS of REVIEWS
Y'all behaved this week, so Metal 571 gave us not one but two headphone reviews. And one of them is an on-ear headphone, which *SPOILER ALERT* impressed him, the planar Sine On-Ears (13 mins). The other review is now a part of headphone branding history, the Momentum 2.0 Over-Ears. That's because in the US market Sennheiser renamed all their Momentums as the HD1 series. Something about naming rights and lawyers and things of that nature.
The Sony MDR-1000X have emerged as a challenger to the Bose QC35 perceived dominance on the ANC front, so the Audiophiliac at C|NET decided to square them off.
Fostex the people! A 3-way "shootout" of three Fostex wood-y headphones is now out at Part Time Audiophile, featuring the TH-610 and two variations of the MassDrop TH-X00.
The Verge goes electrostatic as their resident audio reviewer takes a look at the Shure KSE 1500 earphone system.
From the next generation of reviewers, DMS3 TV shares his take on the Audio Technica M40X (which developed their own undercurrent counter-hypetrain to the craze that was the M50 and M50X) in this 9 minute video.
The AKG branded earphones that get included with the Samsung Galaxy S8 flagships have been the topic of many discussions. The Sound Guys have a 5-minute video spotlighting them. One thing that puzzles me with reviews in general (not nitpicking on this review in particular) is how do people come with repeatable granular arbitrary ratings. What does a 7.6 in Sound Quality mean and how do you decide that to a decimal point? Or a 7.5 in Build & Design. When you think it through, these type of ratings are illogical unless you have a measurable and repeatable way of calculating them, which only works with computer-generated data, not human-generated data because, well, because we are human 🙂 [rant ends] *confused*
Speaking of which, it was only a matter of time before the PageView Driven media decided to do a Galaxy S8 AKG earphones versus Apple Earphones. Because page views 🙂
Trigger warning for reddit admins and people who get seasick with head-mounted videos 🙂 If you are a fan of Chewbacca the Cat, Zeos has a 20-minute video on the Sony MDR-Z7 closed-back headphone. Zeos has developed a big following in a "cult of personality" type of fashion, people find the videos and his personality entertaining and accessible, but some find the reviews are not audiophile-level, and the combination of the two causes the debates 🙂
The grandfather of headphonalia, Tyll of House Innerfidelity, is back with a new review of the ZMF Eikon over-ears, which includes an 11-minute component of the review (YouTube-embedded below):
And now a few more reviews, in lightning round:
+ Audiofly AF180 by The Headfonics (good name for an low-fi indie band from the Pacific Northwest or NYC)
+ The Headphone Guru is thrilled with the new 1More Quad Driver. Because tripe drivers are so 2016 hype train 🙂
+ Edifier W800BT wireless by The Headphone List
+ Oriveti (not Oivetti) BASIC by The Headfonics
+ Hidizs AP60 DAP by Headfonia
+ Aune S7 headhphone amplifier in responsive / slide-show format by Earphiles
LEARNINGS
The adult coloring trend is expanding in many directions, custom-coloring headphones is a thing too, and DMS3TV has a 6 min video on the topic.
Do you want to have a versatile switch for your headphone system? Do you want more than what off-the-shelf products offer? Are you comfortable with some electronics DIY work? Reddit user TravAndAlex has a DIY post ~ don't miss the seven picture imgur post with commentary below each picture.
One more thing, if you are a T-Mobile customer, on Tuesday April 25 in 2017 you can score a free 12-week digital subscription to Billboard as part of T-Mobile Tuesdays.
STREAMING
Another option is now available to anyone looking for a full-service music subscription service, the Pandora service is out of beta and anyone can sign up. If you sign up through app stores, you will pay an "app store tax", so you are better off singing up on their website.
Meanwhile Samsung and Google reached an agreement to make Google Play Music the default music app on Galaxy phones. So now we know, Milk Music was a long con to make Google pay big bucks to become the Galaxy default music app 😉 Joking aside, I really liked the Blues channel of the RIP Milk Music service 🙂