Time flies and here we are again, another CES trade show! In this post, we round up some of the new headphones (and related amps/DACs and DAPs) revealed around the Vegas show which this year runs from January 5-8.
UPDATE: if you are looking for the 2018 trade show, check our New Headphones at CES 2018 tracking post…
LATEST UPDATE on 1/10/17: added the new Audio Technica "Live Sound" IEM line, their new "Sound Reality" line, and more from "Solid Bass" and "Sonic Fuel". It's Crazy-technica alright 🙂 You can find them below all grouped together after the DSR9BT and DSR7BT duo…
TECHNICAL NOTE: if you are not seeing the correct YouTube video below at the correct place, do a hard refresh on the page and it will be corrected. It's an issue with caching and the YouTube embed widget or so…
CES 2017 HIGHLIGHTS
TO BE ADDED HERE SOON
New things come out faster than I can post them here; this is what's coming up next:
+ a few more wearables and "truly wireless" earphones
+ and anything else I missed
Sennheiser launches new HD 1 Hybrid Neckband Earphones
In addition to the Momentum kerfuffle (see segment below), Sennheiser revealed three new headphones at CES 2017! One earphone, and two over-ears.
The earphone is the "HD 1 In-Ear Wireless", a hybrid neckband, the earphones have a loose short cable which is attached to a neckband, so you get a best of both worlds (or get annoyed twice if you don't like the style). The buttons are on the neckband. They have a 60-second Vimeo video in the middle of their product page that shows these in use. It's easier to look at that than me writing half a dozen paragraphs trying to describe it 🙂
They have Bluetooth 4.1 with apt-X, AAC, and NFC support. The description there also says:
"the support of USB audio with USB charging round up this comprehensive ease-of-use package"
There is no price yet. Regardless, Sennheiser's official price is often higher than what it ends up selling at from authorized dealers.
Sennheiser HD 4-series gets two Bluetooth Over-Ears
There are hundreds of bluetooth headphones out there, but Sennheiser continues to price theirs at a premium. The two new over-ear bluetooth closed-back models come in lower than Momentum prices, but they are still higher than "the market". Regardless, the HD 4.40 is a bluetooth model, while the HD 4.50 is a bluetooth and ANC model. Their formal names are "HD 4.40 BT Wireless" and "HD 4.50 BTNC Wireless" respectively with $150 and $200 official prices.
The user manuals of these two in PDF format can be found in the Downloads section at the bottom of their individual product pages at the Sennheiser website. You can get to them quickly from their CES 2017 page.
From there we learn these HD 4.* models support Bluetooth 4.0 with apt-X, and NFC. There is no mention of AAC in either the PDF files or their product pages. Both have 18 ohm impedance. The user manuals have a nice section explaining what all the buttons and button presses do (I can't say the same for most bluetooth headphone manuals and guides I've seen through the years).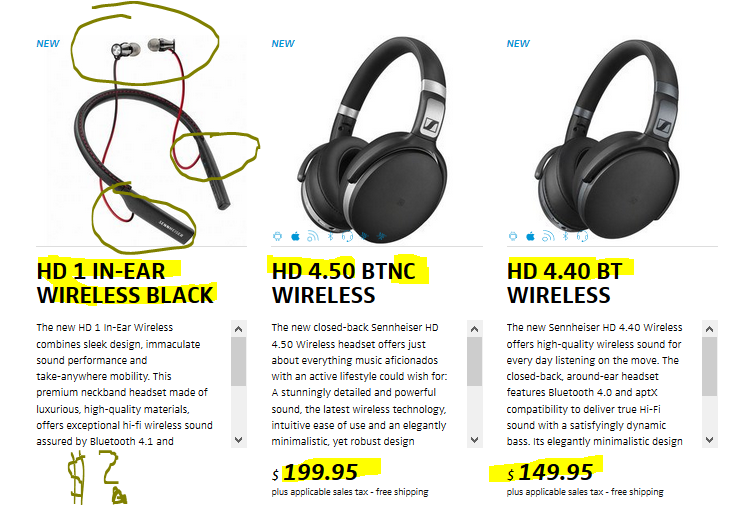 Sennheiser loses Momentum(s)
According on a Sennheiser engineer in the Headfi forums, someone else owns the Momentum naming rights in the USA market, so the Momentum name will not continue. Those headphones have been renamed as the "HD 1" line. The Momentums did not have a "proper" HD name anyway, so now there is order in the HD Naming Universe again 🙂
Perhaps this may explain some of the strange flash sales of the Momentums a few weeks ago? Another silver lining of this, you'll know you are getting a "fresh headphone" if it's an HD 1 [although they could also be repackaged] 🙂
So the currently existing Momentums translate into this new line-up:
OVER-EARS: "HD 1" wired and "HD 1 Wireless" (bluetooth and ANC) Closed-Back
ON-EARS:"HD 1 On-Ear" wired and "HD 1 On-Ear Wireless" (bluetooth and ANC) Closed-Back
IN-EARS: "HD 1 In-Ear" wired earphones with 3-button remote/mic
The prices shown on their website are list prices, so it maybe an opportunity for them to "reset" prices upwards while they clear out the Momentum inventory. At the same time, Momentums become a bit of a "historic" model, so some who collect may want to buy just to have one of those short-lived Momentums.
Blue Microphones goes Planar
Blue Microphones, known headphone-wise for their powered Mo-Fi and unpowered Lola, are back with a trio of headphones, with two firsts, their first Planar-Magnetic, "Ella", and their first wireless (bluetooth), "Satellite" which we mentioned earlier/below.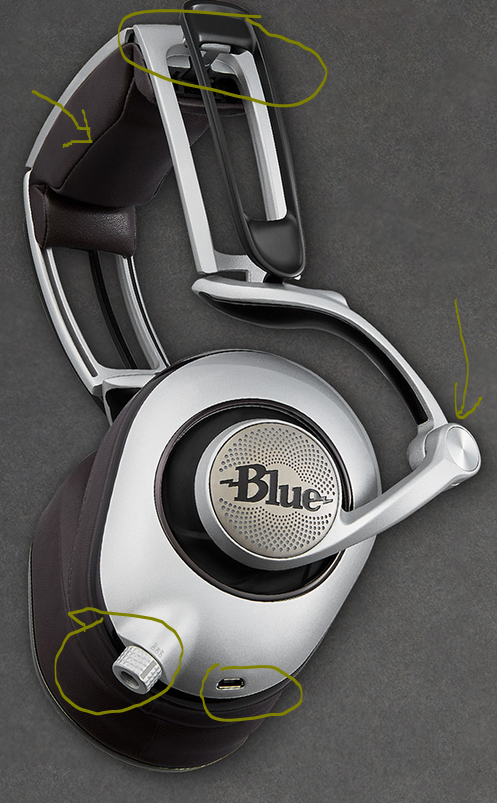 "Ella" (annotated pictured above singling out points of interest in the design) is both planar-magnetic and powered – these not-so-tiny headphones have a built-in amplifier (250mW) which is matched to the headphones, so there's no physics/math needed for the end-user to figure out if it's a good match 🙂 The headphones also work unpowered where they have a 50 ohm impedance. They are closed-back, and they are so over-ear, they are almost helmet size. Pre=orders are available for $700 at amazon.com and elsewhere.
"Sadie" is a reboot of the "Mo-Fi", a more musical name to be sure [can't speak for the sound of either], with a similar design language as the "Ella". These are powered but dynamic, like the Mo-Fi. They have 50mm drivers, they are closed-back, with detachable cable just like "Ella". Their built-in amp offers 240mW. When used unpowered, their impedance is 42 ohm, so you can still do power math-physics if trying to match them with your own amplifiers. They are available for pre-order for $400.
Here's a 4 minute overview video of the new headphones with a Blue Microphone representative by Think Media TV:
SPOILER ALERT: the guy goes Eminem at the end of the video #MustSeeTV 🙂
BLUE goes WIRELESS with a SATELLITE
A lot of the audio company names and products seem to be Dave Matthews Band songs these days? 🙂 Blue Microphones is back with their first wireless headphone, The Satellite. This is in the mold of the Mo-Fi and Lola. Not much is known about it yet, but it will have Bluetooth 4.1 with apt-X, but unlike the iPhone, it has a 3.5mm option as well *zing*. So far, the Verge has the most details about it.
UPDATE: these were a sneak-peak teaser at CES 2017. They are not a "real product" yet – in the sense that they have not revealed a price or a release date estimate. Per the Blue representative in the video above, these have two drivers, one for music playback, another one for noise cancelling.
More details on these at the Blue website. There we learn they will be available in two color-schemes, they have 44mm drivers, and have an unspecified "Latest Bluetooth wireless technology". Crackpot theory: could it be they are planning to have these as a Bluetooth 5.0 model???
These two are powered, but so is every other bluetooth and ANC headphone since both circuits need power to operate.

New Audio Technica DSR headphones claim digital signal to the drivers
In electronics trade-shows, it is often cascading waves of expected sequential or generational upgrades, so it is fun and interesting when something unexpected and mysterious comes along. Audio Technica's two new DSR wireless headphones claim to be sending a digital audio signal to the headphone drivers. I am not the only one puzzled by this, many others are too, including What HiFi and the Verge.
This new technology, they call "Pure Digital Drive", self-explanatory given the claims. Their pages say these use a different chipset instead of a traditional DAC + amp. This chip (Trigence Semiconductor Dnote) sends a digital signal to the drivers, and then we hear the music because:
"The digital pulses generated by the chipset directly excite the voice coil(s) of the driver to move the diaphragm forward and backward to create the sound waves heard by the user."
A quick googling finds the splash page for the DNote at Trigence's website, an annotated screenshot of that below. It is consistent with what the Audio Technica material say.

You can dig around their website under Products and under Technology::Whitepapers for more technical details on how this may work. I don't believe we know which model exactly the AT DSRs are using, but this should be a start in the Sherlock Holming of it 🙂
They use 45mm drivers, so there's that 🙂 More on these as time goes by. I'm sure many will be brave and curious to open them up to see how exactly they work.
There are two over-ear models, the ATH-DSR9BT with a $550 starting price, and the ATH-DSR7BT with a $300 starting price according to their press release. They are expected to come out in the Spring of 2017. Spoiler alert: here is their print ad for them in PDF form.
Detailed specs on these can be found at the AT website for both, the DSR9BT and the DSR7BT. There we learn that they have 38 ohn and 35 ohm impedance, and a USB Type B input jack.
Lost perhaps in the "Mysterious Digital Signal" (the SETI equivalent of the WoW signal?) is that these are using the newer "Apt-X HD" technology, not the good old "Apt-X". Here's a splashy TL;DR type of a page on Apt-X HD and a list of products that currently support it (LG leads the way with the V20 and G5 smartphones).
NOTE: these are not available for pre-order in the West yet. There are listings for both the ATH-DSR9BT and the ATH-DSR7BT at Amazon but they are by a Japanese exporter and they cost twice as much as their actual price. Patience is a virtue and your wallet will thank you 🙂
New Audio Technica Sound Reality line
Audio Technica was rather busy at CES 2017 with many more headphone launches, including this brand new Sound Reality line with the "SR" found somewhere in the model name of the over-ears. The two DSR models mentioned above are not the only members of this line-up! See press release.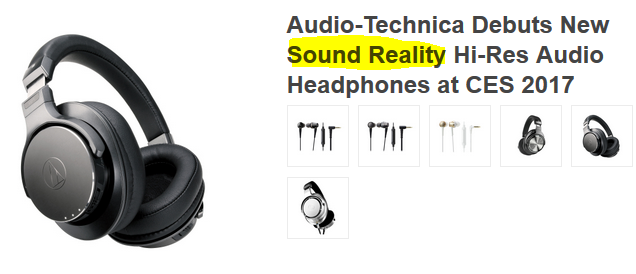 The line-up also includes the new closed-back over-ear ATH-SR9 with 45mm drivers, detachable cables, fold-flat swivel design, and "Hi-Res Audio" marketing attached to them. A hard case and two cables (buttons, no-buttons) are included. Their impedance is listed as 47 ohm under the specs. Their USA starting price is $450, so don't be fooled by the exporters selling them for $799 through amazon.com.
Next up is a trio of earphones in this line, under the "ATH-CKR" moniker, with the ATH-CKR100iS leading the way at $389 with dual-phase push-pull dual 13mm drivers. The cable is detachable and uses their new "A2DC (Audio Designed Detachable Coaxial) connectors".
The other two earphones in this line-up are the ATH-CKR90iS starting at $190, and the ATH-CKR70iS starting at $100. The latter does not have the A2DC connectors and the dual-phase pull-push drivers.
New Audio Technica "LIVE SOUND' EARPHONE line
The AT party continues at CES 2017 with a new quintet of in-ear models that are part of the "Live Sound" lineup, which, marketing-wise, aims to bring "the live concert experience to everyday listening". All five of them come with a mic/remote and AT's new A2DC (Audio Designed Detachable Coaxial) connector technology.

Princes range from $79 to $579. Again, these are the official starting prices, so only time will tell where they will settle street-price-wise. The five models are:
ATH-LS400iS quad balanced armature for $579
ATH-LS300iS triple balanced armature for $389
ATH-LS200iS dual balanced armature for $249
ATH-LS70iS dual "Symphonic drivers" for $129
ATH-LS50iS dual "Symphonic drivers" for $79
New Audio Technica "Sonic Fuel" and "Solid Bass" models too
Last but not least a few more AT models in the "Sonic Fuel" and "Solid Bass" line-ups. To get things moving, here's a quick summary of each:
ATH-AR3BT Sonic Fuel On-Ears Bluetooths with apt-X for $119
ATH-AR3iS Sonic Fuel On-Ears for $79
ATH-CKR50iS and CKR30iS Sonic Fuel in-ears for $49 and $34
ATH-CKS990BT and ATH-CKS550BT Solid Bass blueooth in-ears for $199 and $119
all the bluetooths mentioned above support apt-X per the press release
HifiMan Edition 6 Planars and EF1000 Amp System
Hide your wallets for this, a new duo, the Edition 6 planar-magnetic headphones and the EF1000 amp system. There's nothing but a slide in their website front-page slideshow for these along with a tweet, so stay tuned for more details in the future…
oooh pretty!!! pic.twitter.com/ybqtItXr1T

— HIFIMAN (@hifimanofficial) January 6, 2017
New Hifiman RE-2000 and RE-800 IEMs
Hifiman ushered out two new pairs of IEMs, with the RE-2000 described on their website as "custom performance in universal fit". They don't have any details on their own website yet, but they posted pictures of both new models on Twitter, first the RE-2000 and then the shiny yellow-gold RE-800, their pictures Twitter-embedded below:
A new, less shiny but acoustically brilliant new IEM #hifimanCES pic.twitter.com/tnryNuKFbP

— HIFIMAN (@hifimanofficial) January 6, 2017
Shiny shiny new IEM #hifimanCES pic.twitter.com/66whbgqZ0H

— HIFIMAN (@hifimanofficial) January 6, 2017
New Chord HUGO 2 DAC/amp
The Chord Electronics HUGO DAC/amp with those distinctive marble-y buttons generated some buzz. Now it's time for the second generation model, the Chord 2 was revealed at CES 2017, and it is described in detail at the manufacturer's website, one of only a few manufacturers that were able to update their website to coincide with CES 2017 🙂
This will come in two new colors. It has three wired inputs (microUSB, optical, 3.5mm Coax) and Bluetooth. The output is 3.5mm headphone out and RCA L/R. DSD support goes up to DSD512. Their website explains it all so neatly, there's no need for me to summarize or translate 🙂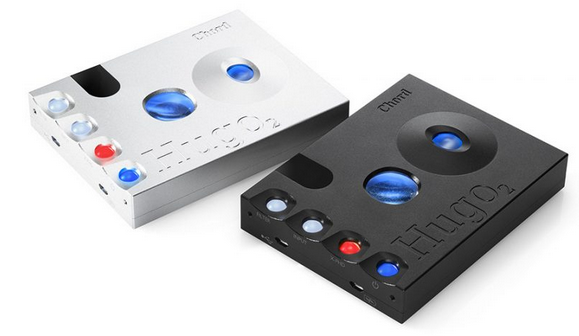 POLY WANTS a microSD, not a CRACKER
In addition to Hugo 2, Chord Electronics also launched an ecosystem play, the new "Poly" (that's the product name) is a wireless module that attaches to the Chord Hugo DAC/amp and gives it wireless capabilities, both Bluetooth and Wifi streaming, and microSD playback (their Feature section says "SD" but it's microSD. SD is the name for the full size SD card, not the microSD, but I'm digressing).
All the details can be found at their website. They have also posted a 100 second video outlining Poly:
1More climbs to Quad Driver IEMs
1More got a hype train of its own with their triple driver IEMs, but they are not resting, they are adding a fourth wheel to the hype train (this is not train building advice!), a new quad-drive model. They only have a short Facebook post on this on their properties, but there's a 2 minute video look at these from Digital Trends:
iPhone 7 cases give it a headphone jack
A couple of companies showed new iPhone 7 cases at CES 2017 that give the jack-less smartphone a headphone jack. One is the Griffin Reserve, the other is the Incipio OX. The former will start at $100 and have a built-in battery too, while the latter will start at $70 but no battery juice.
PS: I am not sure why you could call that an OX. Mayhaps wordplay on AUX, but according to the dictionary "Ox" already has a well-known meaning 🙂
New Klipsch Heritage headphones
Nothing says heritage more than wood, especially if you are a fashion/style brand, which perhaps explains the arrival of the Klipsch Heritage headphones. Heritage is an existing line of Klipsch Speakers, but these are their first headphones under this brand.
The first three models are named HP-1, HP-2 and HP-3. The HP-1 is a closed back model and will be available in wired, bluetooth and ANC. The other two are open-back and wired. The wood options will likely include oak, walnut and ebony. They will feature a blend of wood, metal and leather.
Here's a three minute video on these three models with mid-western retailer Abt talking to Klipsch dude.
Tidal slowly adding MQA
Tidal is adding MQA Masters to its Hifi subscription tier (the $20 per month level), details through their tweet. There is no additional fee to listen to the Masters, but at the moment it is only a small subset of their collection, and not available in all Tidal apps.
There are plenty of near never-ending discussions on how to make the best of MQA recordings, whether your current setup (technological or biological) can noticeably benefit from the boost in audio quality, and so forth. Has anyone done an A/B test with the VE Monks? 🙂
New Monster Elements series with "USB Direct Digital"
A new line of Monster headphones is born, the Elements, a "classic line-up" in the sense that it consists of one over-ear. one on-ear, and one in-ear. Their defining characteristic perhaps is the "USB direct full Digital", as long as you can get audio out of your USB port. They have a built-in D/A Converter (DAC). Cables are included (microUSB) for this.
They can also play music "wired", and wireless (bluetooth), and the two bigger ones have "Active Echo Suppression". More details on these at their individual product pages at the Monster website and the PDF file introducing the Elements line-up.
The starting prices are $350, $250 and $170 respectively.
MONSTER AirPods competitors
In the post-Beats world, Monster is trying to find and redefine itself. One of their approaches is to jump on the "Airpods" bandwagon, and they have done so in a high profile presentation at CES 2017, with their new $300 AirLinks Elements Wireless earphones. Wireless being bluetooth of course. A 90-second recap of the introduction can be found at CNet (starts with a 15-second Qualcomm ad). More details in this Monster PDF file.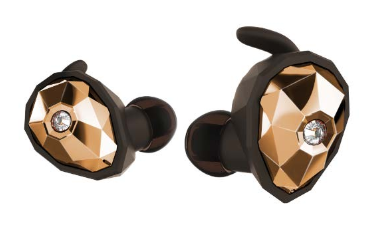 MONSTER has seven new iSport exercise earphones
The Beat-less Monster continues to usher out waves of new headphones, which brings us to seven new exercise earphones under their "iSport" line launched at CES 2017. You can find them all summarized in this four page PDF file.
The three more expensive of the lot (at least in terms of list price) are bluetooth models, headlined by the "Freedom v2" with touch-sense controls, and a "USB Direct Digital Audio" listening mode. The starting price is $200… Next up is the "Victory BT" starting at $100 with reflective cable, promises of a great fit thanks to their "OmniTip" technology… "Intensity BT" retains the reflective cable but not the magical OmniTips… The entry-point of these is the "Achieve BT" with a $60 starting price.
The wired earphones come underneath the bluetooths in terms of price, they go for $30 (Achieve), $40 (Strive v3) and $50 (Compete). Apparently there is no end to sport-and-fitness related names 🙂
NOTE: the above PDF file shows an on-ear picture for the "Achieve BT" but the description clearly indicates it is an earphone.
NEW SONY RF WIRELESS RF995RK
RF wireless continue to live, although they are definitely overshadowed by bluetooth these days. But until Bluetooth solves its audio-sync and pairing issues (or one is lucky to have a combination of headphone and source that works fine), RF is perhaps the way to go for home theater.
Which brings us to the new RF995RK model. They are running out of model numbers because the previous one was RF985, so the next one would have to roll over to RF1085 🙂 There are many pictures along with a few details on this new model at its product page. It comes with a charging stand and has a built-in battery, so no for AA/AAA fans. Price is not mentioned yet.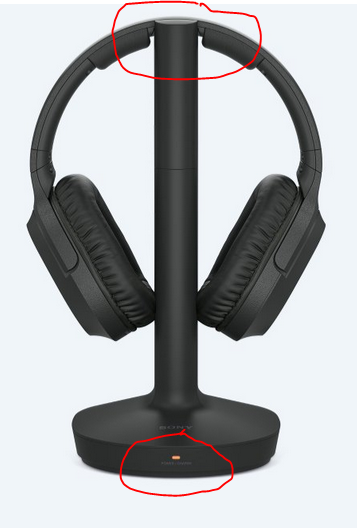 NEW SONY MDR-XB950 N1 and B1 OVER-EARS
The Sony CEO didn't bother to mention these new headphones by name, but they showed up on Sony websites. It is a duo of new XB950 headphones, the N1 and the B1. The N1 (N for Noise Cancelling) is described as "Hear nothing but the bass" on their website so you have been warned 🙂 It is a bluetooth headphone. And so it the B1 which retains the "Extra Bass" and Bluetooth but not the ANC part – it has its own product page… UPDATE: rephrased this twisted paragraph…
UPDATE: but wait, there's more in the XB series! Sony launched another new model, the XB550AP, available in four colors. This one did not get its own YouTube video, just a NEW tag on the Sony headphones page. But they have pictures and spartan details on its own product page. This is not a bluetooth model.
Next up, it's an exercise earphone, the new XB510AS with the fin-hook style that is common among exercise products since they (theoretically) have a better hold on your ears while you are running or jumping up and down.
SONY working on ANC earphones
The 25-minute Sony CES 2017 presentation was mostly uneventful audio wise, except perhaps for their "Acoustic Surface" TV technology where the whole TV display surface is the speaker. On the headphone front, they re-iterated their existing flagships (which are still hard to find in-stock), and said they are working on two new noise cancelling earphones. One of them is a "truly wireless", the other is a behind-the-neck kind. They did not give any further details. They framed these as in development, not actual products.
Sony will not remove headphone jack
During a press event in Japan last month, Sony revealed that they are sticking with the headphone jack, so if others abandon it, Sony will be the headphone jack's last best hope for peace! The source is in Chinese, here are some of the english coverage of this at the Xperia blog (fan-blog, not Sony-owned) and Android Authoritae.
AKG adds Bluetooth version of N60 NC
For companies targeting the general mythical average consumer and techie, bluetooth-only, ANC-only, or BT and ANC combo headphones are almost a must-have, at least one of the three. All three may cause audiophiles to barf, but there are literally thousands of headphones to pick from 🙂
So following up on the "AKG N60 NC" on-ear noise-cancellers (which were a $150 2016 Black Friday era special), they now have a new version that adds bluetooth, calling them "N60 NC Wireless". They are expected to come out in April for $300 according to CNet News.
New AKG N-series earphones
A new series of earphones is coming from AKG, the N-series, with three models out of the gate, the N25, N30, and N40. They have a 63-second video announcing them:
NEW from Panasonic's TECHNICS
Live from the Panasonic CES 2017 stream: new turntable, Grand Class SB-G90 loudspeaker, and SU-G700 premium class integrated amplifier (with built-in headphone amplifier). Sound room available in two places in Vegas to demo these. More details later on.
SHURE LIGHTNING CABLE DAC/amp for its SE series earphones
If you have one of the latest Shure SE-series earphones, and also an iPhone without a headphone jack, you may be excited by this new development. Shure has revealed a new product, they call it the "Remote + Mic Lightning Accessory Cable" but it's more than that, it's also an in-cable DAC/amp for use with the latest jack-less iPhones. Five SE earphones are compatible, the 215, 315, 425, 535, and 846. The starting price is a reasonable $100 (all things considered). No details on the Shure website yet but the press releases are making the rounds at the tech websites such as The Verge.
VR HEADSETS
The Audeze iSine planar in-ears have yet to be released, but CES gave them another family member, a VR version of the iSine 10, aptly named "iSine 10 VR" with HTC Vive and Facebook's Oculus Rift compatibility (among others). Early details of the model at their website and pre-orders are accepted already at authorized dealer adorama.com.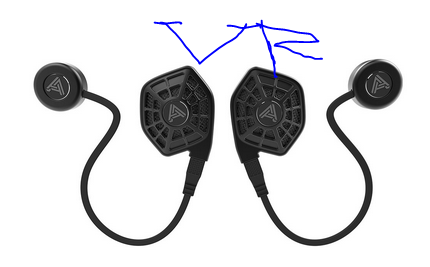 "TRUE" WIRELESS EARPHONES
In wireless headphones, there are "wireless with wires" and "wireless without wires". The latter group has adopted the term "true wireless", and with the launch of the Apple Airpods, this segment will likely get a boost in all directions.
Which brings us to the "Earin M2", a rather self-descriptive name of its use, size and function 🙂 Nothing yet on this at the company's YouTube but you can find the press release at various tech sites like /Gear and CNet. No price yet but it's coming in the nebulous Q1 of 2017.
WEARABLES
The new Bodytrak in-ear is also an attempt at a more serious fitness tracker, combining two devices in one. Some more details on these at The Verge.
Ultimate Ears UE 18+ PRO
Your wallet may be getting kissed by a rose if you can't resist the temptation, but there is a new Ultimate Ears model, the 18+ PRO in-ears starting at $1500, and offering some customization options during the ordering process. Their product page promises improvements thanks to their "True Tone" drivers, that highlight "upper register harmonics" and "improved presence" and "clear warm sound". One thing that stands out like a sore thumb is a 1-year warranty ~ considering the purchase price 🙂
Beyerdynamic goes In-Ear Tesla with Xelento
This is an interesting name for a 999 Euro earphone, Beyerdynamic goes Tesla-flagship with the new dynamic "Xelento Remote", with a February 2017 planned release. This is optimized for mobile devices (16 ohm), handmade in Germany. It has a detachable cable, and comes with both an MMCX (4-pole) and a 3.5mm (3-pole) cable which should be expected considering the price 🙂
Further reading on this at the Beyerdynamic North America site, along with a PDF brochure with detailed specs.
For a more inside-baseball look, they have a text-only interview with Beyerdynamic developer Oliver Schaal.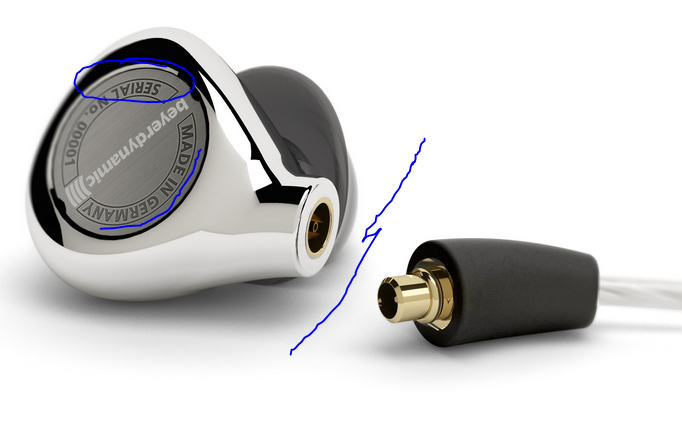 New Fiio X5 III DAP goes Android 5.1
Fiio is back with their third generation of their X5 Digital Audio Player (DAP) and for this model, they are going Android. But it's not goodbye Fiio OS. The device can also operate in "Pure Music" mode, so you can ignore all the Android-alia if you don't care for it.
Adding Android though has pros and cons as it opens the door to more apps, but also brings the DAP in price-vs-specs comparison to an every-increasing world of Android bang-for-the-buck smartphones. So the DAP must needs offer unique and differentiating features you can't get from a smartphone.
According to Fiio's product page, the X5 III is running on Android 5.1, has 1GB RAM, 32GB on-board storage (you really don't want to run the OS from a microSD card), a quad-core RK3188 processor, and a 4-inch touchscreen (yes, the front is a touchscreen like a phone, goodbye click-wheel; it has a 800×480 resolution).
Audio-wise, it has dual AK4490EN DACs with support up to 32-bit PCM and DSD. It comes with two crystal oscillators for each "frequency camp" (the 44.1 multiples and the 48 multiples).
Two is a theme here, as it also has two headphone outputs, a standard single-ended and a balanced, a differentiator over Android phones. Two microSD slots too, each supporting up to 256GB memory cards for a 512GB total plus the 32GB on-board storage (likely less when you factor in OS and such).
This offers other audiophile-friendly features such as USB DAC function, as well as digital output that can use external DACs. But it also offers some consumer-y features, such as 2.4GHz Wifi, Bluetooth 4.0 with apt-X.
If you can understand Chinese, here's a 100 minute video presentation on this new model:
NEW GAMING HEADPHONES
This will be summarized only, since we are not focusing on gaming here. Here are some of the many new models that are expected by the time the trade show closes its doors: