This is one of the "Chi-Fi" in-ears that are riding the hype train, so when I noticed it on a lightning deal at amazon.com, I gave in to the temptation and picked it up to see what all the fuss was about. I did this knowing that this is a bass-favoring earphone. This post is our customary text and pictures unboxing. The review will come later on 🙂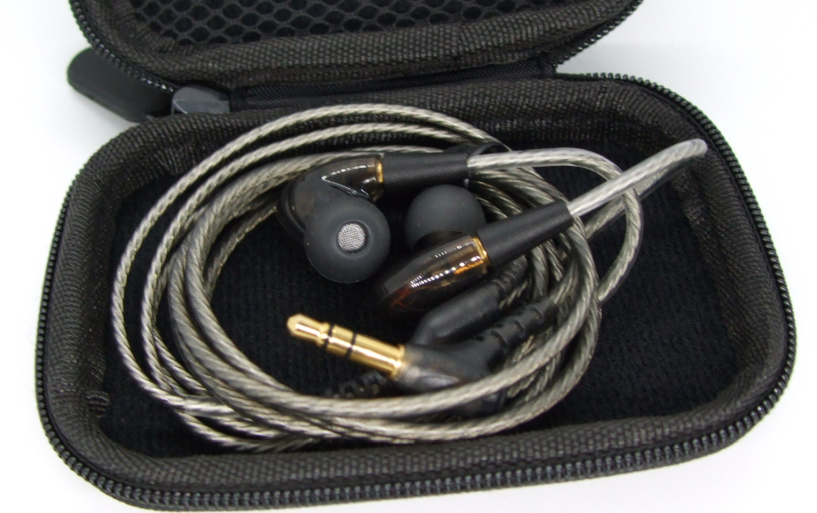 WHAT'S INCLUDED
The box includes the following:
the earphones (with the cables attached to them) in a zippered hard shell case
different size eartips in a sealed little bag
warranty card
nothing else is included
THE PACKAGING
The gray packaging is sealed in a clear wrapper, which I removed before taking pictures because it reflectively shiny 🙂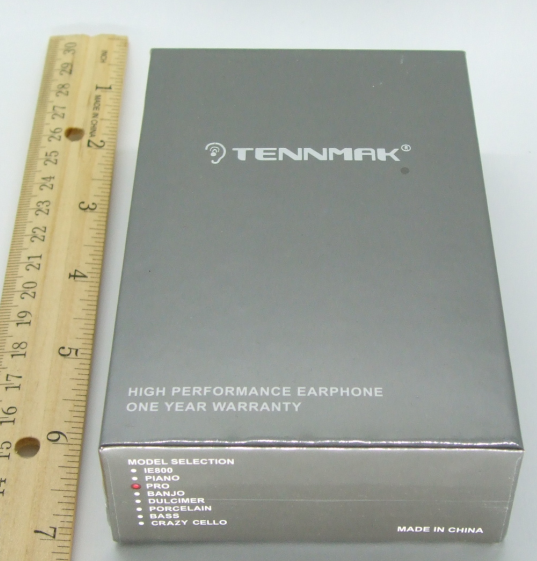 The packaging appears to be shared with other Tennmak products. This is the PRO model. The first product name in the list over there is rather curious 🙂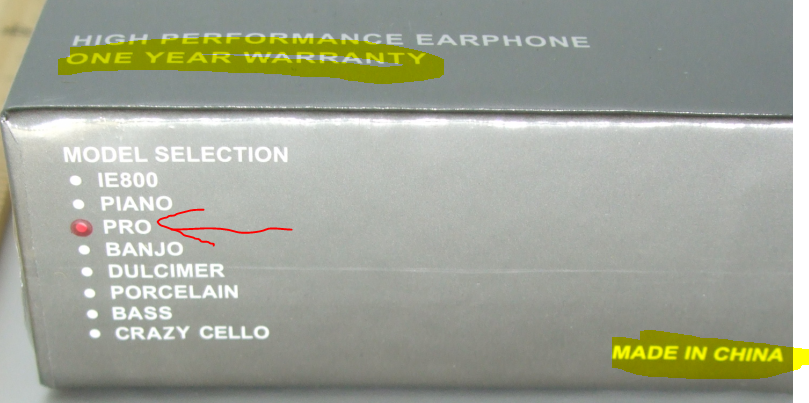 At the bottom of the package we have the customary Amazon product code (ASIN) sticker with a Made In China note here as well. Authentic Chi-Fi!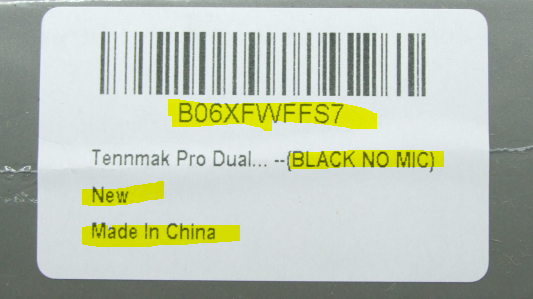 And this is the backside, with text available in six different languages…
OPENING THE BOX
Opening the box reveals the zippered hard case and the little rectangle that contains the additional eartips. The warranty card is underneath the case…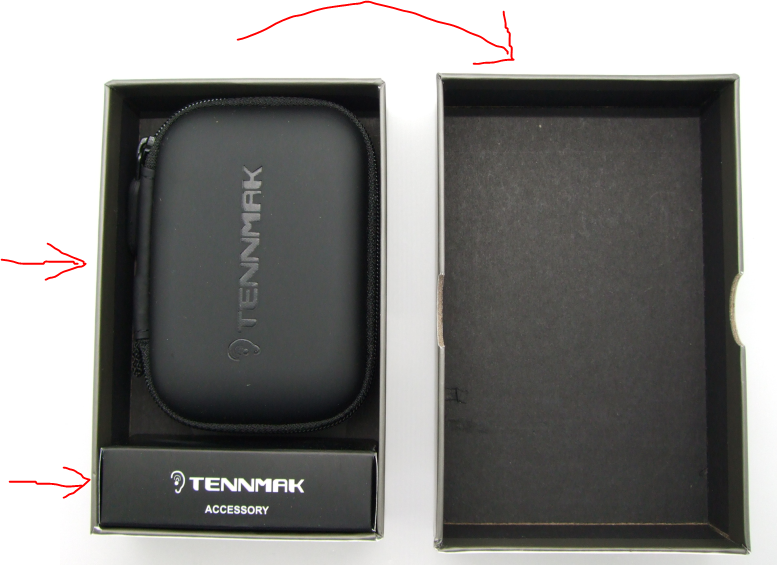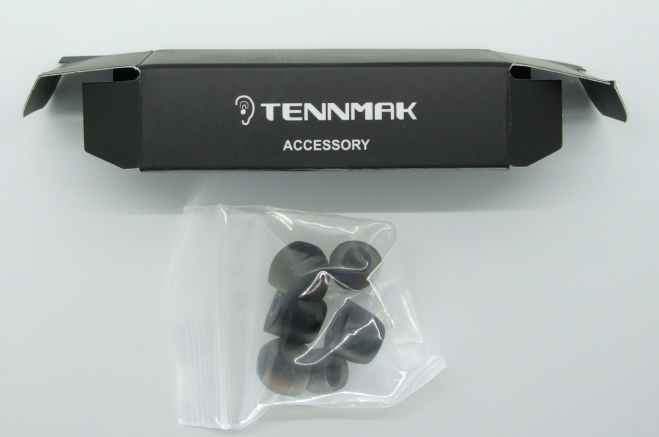 The WARRANTY CARD
As you can see at the double-side card below, they come with a 1-year warranty…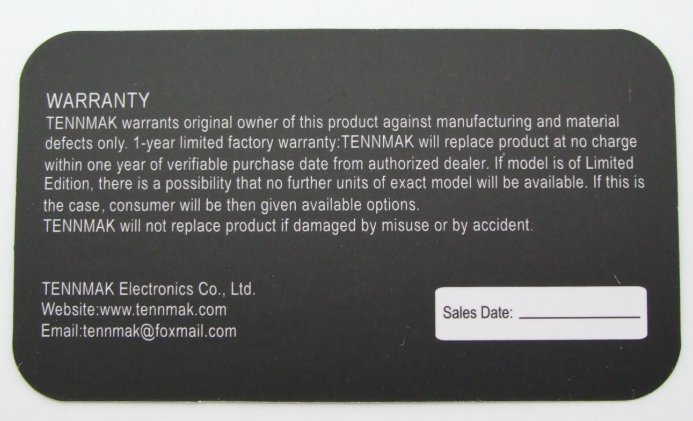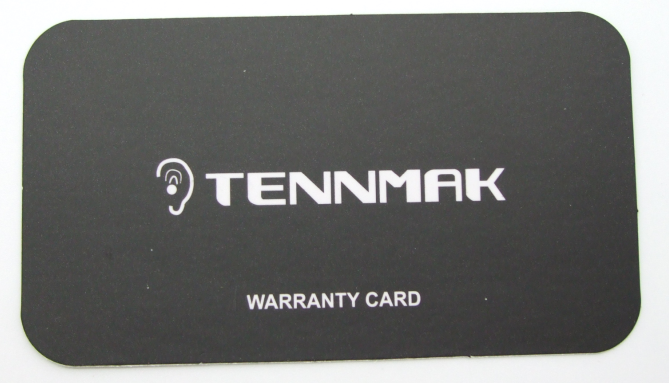 THE CASE
The case is roughly four inches wide…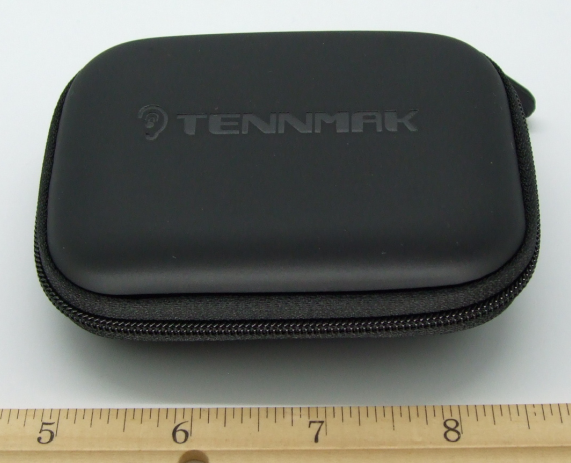 One inner side of the case has a little pocket for the additional eartips or anything else you want to carry…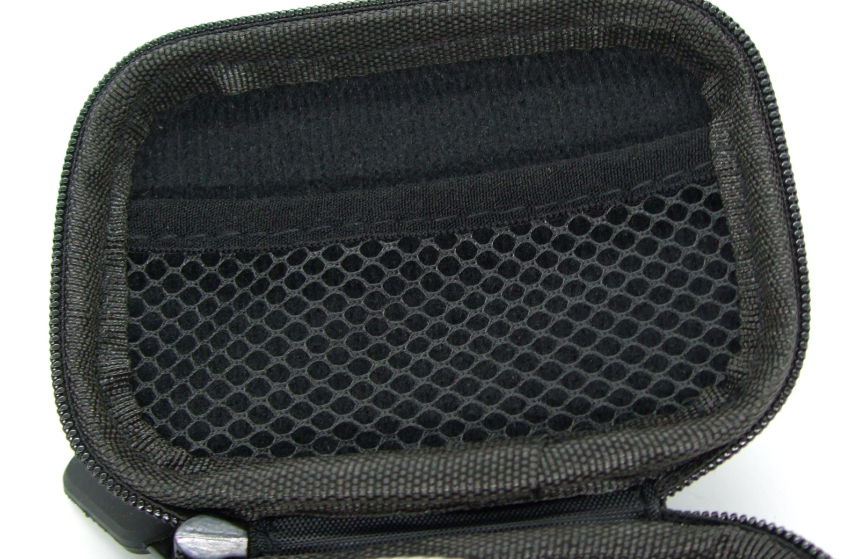 And a close-up of the zipper…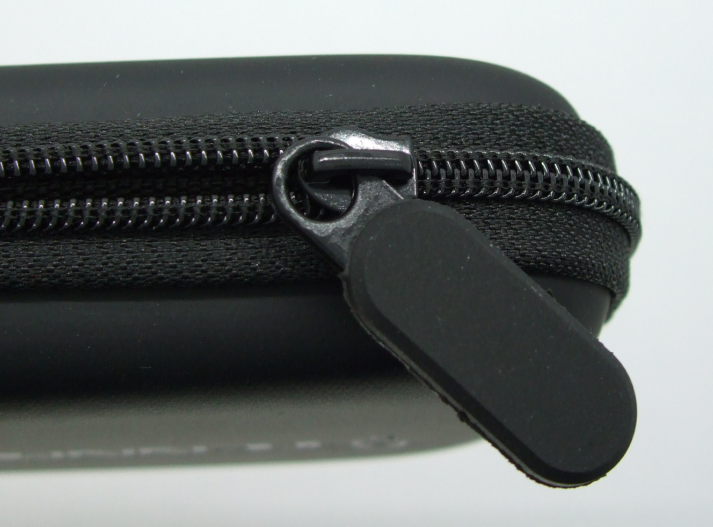 AND FINALLY, THE EARPHONES
And now the main star of the unboxing, the actual earphones. They arrive sitting in the case, with their detachable cables pre-attached to them. There is a little twisty-tie holding the cable in shape…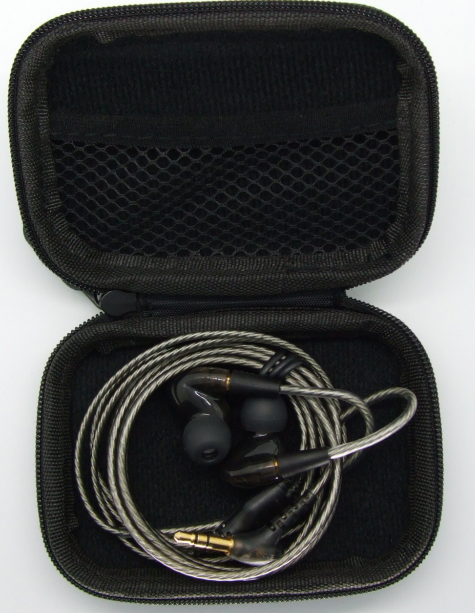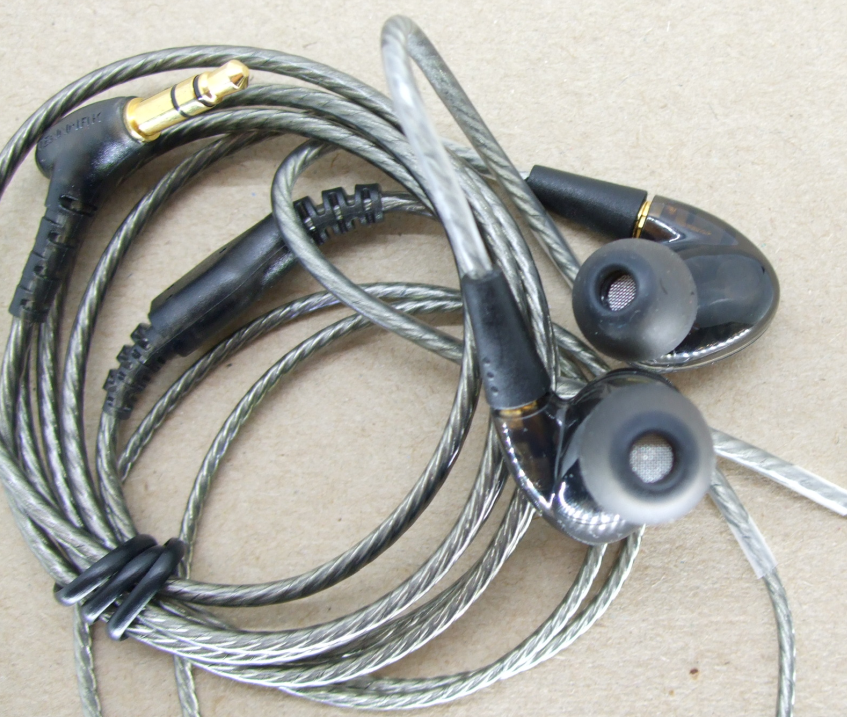 You can see the shape of the included eartips. The white little lights are from my ghetto photography setup 🙂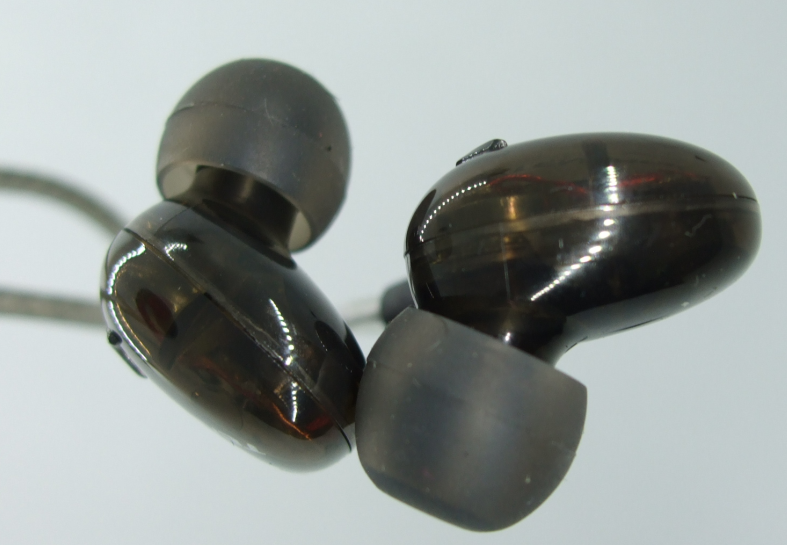 A close up of the two connectors: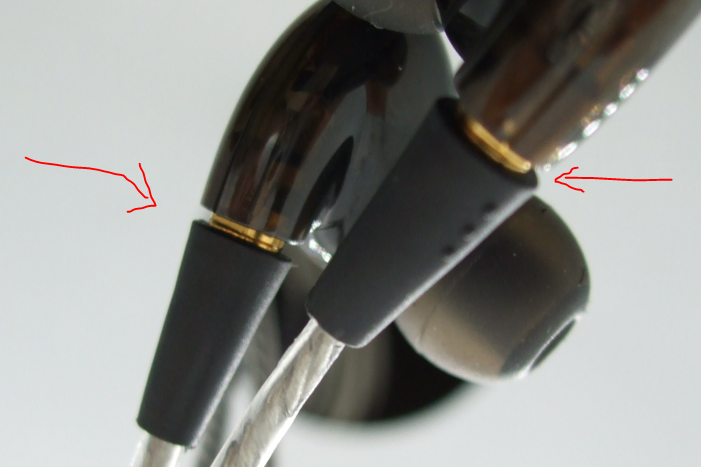 The one I purchased is without a mic, so we have a two-ring headphone jack, angled as pictured. The black color scheme is not as clear/see-through as the white/silver model, but you can still see through it…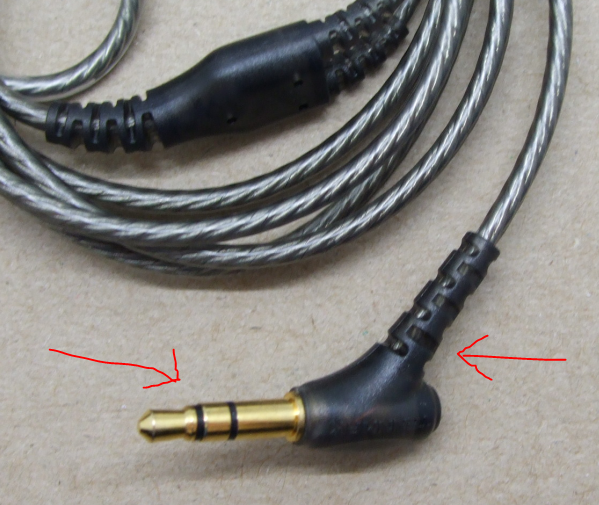 The cable split into left and right as it goes into the earphones. The included twisty tie is also "red arrowed". You can also see a close-up of the actual cable…