Time flies and the annual IFA 2016 has arrived. This post will track some of the many new headphones that are revealed at the trade show and elsewhere in parallel with the trade show (smaller manufacturers may not be able to afford a big trade show presence with fanfare and presentations and such, so they have their new launches at home).
LATEST UPDATE: this post will be updated many times as I find and add more and more headphones… TIP: if you are not seeing the correct video embeds, do a hard refresh of the page (eg CTRL-F5 on Firefox)…
TABLE of CONTENTS
The following have been posted below in this long post:
Apple: Goodbye Headphone Jack, Hello Lightning, and Wireless Earpods and new Beats 3 and X
LG V20 "Phone as DAP"
Sony Walkman NW-A30
Beyerdynamic Byron Earphone Trio
Sony Signature line Head-Amp and two new Walkman DAPs
Schiit Jotunheim non-DAC/amp DAC/amp
the Sennheiser consumer models (4/2 series)
RHA two in-ears and a DAC/amp
Sony MDR-Z1R flagship
Audeze Planar In-Ears (Sine and i3)
four new Sennheiser HD-5xx headphones
B&W P7 Bluetooth
Sony MDR-1000X ANC/BT
Bragi "The Headphone" and IBM Watson co-operation
The Shocking (?) September 7 Apple Announcement
The cascading rumors were true, the Apple announcement was a historic moment in the history of the audio jack and it turns out Bluetooth audio as well. The new iPhones 7 and 7 Plus do not have a 3.5mm headphone jack but instead use the Lightning Port for audio. Included in the box are Lightning Earpods along with a Lightning to 3.5mm dongle so you can use your "normal" headphones.
But that's not all. Optionally Apple is selling new wireless $159 AirPods that are NOT connecting with Bluetooth Audio, but instead, Apple's own wireless audio format. It is unknown as to whether they use Bluetooth are the delivery mechanism, but the AirPods are only compatible with the latest Apple devices.
I do not know if Bluetooth Audio is still available in the new iPhone 7s. Time will tell…
Separately, they announced a new set of Beats headphones, the Beats 3 both as on-ears and in-ears, along with a new "budget" line called the "Beats X". They only spent maybe 10 seconds on the new Beats, so details have to be hunted online for them. The Beats 3 are Lightning port. I do not know what connector the Beats X have.
There was no mention of new iPods or new iPads or new Macs.
Wall to wall coverage of the new Apple devices at various technology website can be found via Techmeme. You can watch/rewatch the nearly 2-hour long event at the Apple website using compatible devices and browsers. (Replays will be available shortly – as of 9/7/16 at 3:25pm ET)
Phones as DAPs: the new LG V20
LG officially launched the V20 phone on 9/6/16 at 9pm Eastern (you can watch a low quality audience member YouTube stream of that event if you wish). In addition to the various "audiophile features" it some markets it will come bundled with the B&O Play H3 earphones which go for $150 on their own (I don't know if it will include the first or second generation of the earphones).
After the massive and epic Samsung Galaxy Note 7 recall, the removable battery becomes a bigger plus. It comes with 64GB of on-board storage, another plus for music playback, especially if you prefer high-quality mp3s or FLACs. 4GB of RAM is also nice for music apps.
NOTE: some markets and some carrier bundles may not include the B&O Play earphones!
You can also check a live-blog of the launch event at Android Central. The guy from ESS was on stage giving a brief overview of the quad-DAC and its audio features. More preview action with text and pictures at CNet News.
The embargoes are over, so here come YouTube hands-on previews of it:
New Sony Walkman NW-A30 DAP
Flying under the radar, below all the Signature Series models is a new h.ear X Walkman digital audio player (DAP) revealed by Sony at IFA. They even made a 35-second promo video for it. The product details can be found at Sony Asia, where we learn that it will come in two options, a 16GB version and a 32GB version (which includes ANC headphones). It'd better be priced really low if it has just 16GB/32GB on-board 🙂 But it has a microSD slot, and with prices continuing to fall, that's not as big of a deal.
It plays mp3, FLAC, ALAC, AIFF, non-DRM WMA, and DSD up to DSD 2.8MHz among others. It also plays videos (800 x 480 touchscreen) and has an FM tuner. It is not running Android, but it has Bluetooth and NFC.
New Beyerdynamic Byron In-Ears
Beyerdynamic teased their new Byron line of in-ears in the summer before ushering them out at IFA. It's a three model line-up, starting with the wired Byron in-ear (pre-orders for $79), and then going bluetooth with the aptly named "Byron BT" (pre-orders for $149), and then doubling the price with the "Byron BTA" (again bluetooth as the name hints at, pre-orders for $299).
All three are dynamic, closed earphones, with 23 ohm impedance for the wired model (Byron non-BT). The BT supports bluetooth 4.1, while the BTA ticks up to bluetooth 4.2. More details and pictures at the bottom of the BeyerD press release.
No YouTube videos for these yet, so here's a cropped picture from their press release. Poetry not included with these Byrons 🙂

Sony's Signature Line of Four Figure Walkmen DAPs
You may have to walk a lot of miles on foot after the Spouse discovers you spent $3200 to buy the new Sony Walkman DAP. Not sure how many features can be included to justify the price and certainly 256GB of on-board storage is nice, but we are not in 2006, flash storage is a lot less expensive now 🙂
More details, including specifications can be found at the Sony Signature page. And they are already available for pre-order for $3200 at amazon.com.
Tech coverage on these at Engadget and Tech Crunch or if you prefer videos, here's a few from the IFA show, with the last one been a Sony promo video:
Yes, DAPs, not DAP, because there is a second, less celebrated model because it is "cheaper", it "only" has a starting price of $1200, it is the Sony NW-WM1A and more details on this one can also be found at the Sony Signature page. I haven't found any dedicated videos or write-ups on this one yet.
New Sony $2200 Headphone Amp (Component size, not portable)
Sony is trying to make a splash, and it's not just with their $2300 MDR-Z1R flagship headphone. They have also revealed two new four figure Walkman products, and a new headphone amp, all part of their Signature Series.
The new TA-ZH1ES component-sized headphone amp has a lot of features, including balanced out and support up to 22.4MHz DSD, and it's better to justify its $2200 price [available for pre-order at amazon.com]. More details and pictures of its inputs and outputs at the Sony Signature page for it, along with a few YouTube videos below from the IFA trade show floor (including video of its insides (the first one below); start the second video at the 1 minute and 14 second mark to see the Amp portion since embeds won't let you specify a starting time):
The new Schiit Audio Jotunheim non-DAC/Amp DAC/Amp
Schiit Audio didn't go to IFA 2016, but they scheduled their own launch in the run-up to the trade show at their facility to reveal the new Jotunheim, a NOT-DAC/amp that kinda is a DAC/amp 🙂 But it's not, because it's modular and you can reconfigure it now or in the future. The FAQ section at their website tries to explain this in a Q&A conversational fashion. At $400, you get a headphone amp. For an extra $100, you can add either a Balanced DAC card to it, turning it into a (modular) DAC/amp or you can add the Phono module for vinyl connections.
Details at the Schiit website where it's already available for purchase for $400 or $500 (with Balanced DAC or Passive Phono module). They also have available there the 8-page PDF user manual and the news release.
There are a couple of videos (as of 9/5/16) on this on YouTube, embedded below, a 3-minute video from the event from AudioHeads and a 12-minute preview from Headfi:
The Audeze LCD i3 In-Ears Planar Flagship
Audeze did not just reveal the new Sine i10 and i20 planar-magnetic in-ears, they are also planning a flagship model with a flagship price. It's not there yet on their website, but according to Digital Trends and CNet News this will be price at $2500 and share some of the technology of the LCD-4 over-ears flagship.
The NEW SENNHEISER CONSUMER LINE: 2.XX AND 4.XX
Sennheiser ran out of conventional numbers for their HD 4XX and HD 2XX line-ups, so their new headphones are using a 4.XX and 2.XX naming scheme. A total of five new headphones have been revealed, two in the 4.-series and three in the 2.-series. Here's the first three of them, screenshot from their IFA website (which includes basic PDF instruction/guides).
The real-world prices are a bit of an unknown until the online retailers start offering them for sale. The same holds true for the new HD 5XX series whose prices is to-the-moon at the moment ($150 to $250). The listed prices on the website range from $50 to $100. Only one of the five is currently available for sale (the 2.10).
This naming scheme is really goofy, especially since these are intended to be consumer headphones. Not to mention confusing the model name with the price with that dot in the middle. But on the plus side, there's "4.20". Maybe that's what they were smoking when they were deciding on the names 🙂
The 4.xx are over-ears, the new 4.20S has a single-button remote with built-in cable, while the 4.30 has a 3-button remote and detachable cable. They are folding and have 18 ohm impedance. The listed prices there are $80 and $100 respectively.
The three 2.xx are closed-back on-ears, with folding mechanism, and impedance ranging from 22 to 26 ohm. The 2.10 ($50) has a built-in cable, while the 2.20S ($70) and the 2.30 ($90) have detachable cables. The 2.20S is has a single-button remote, while the 2.30 has a 3-button remote.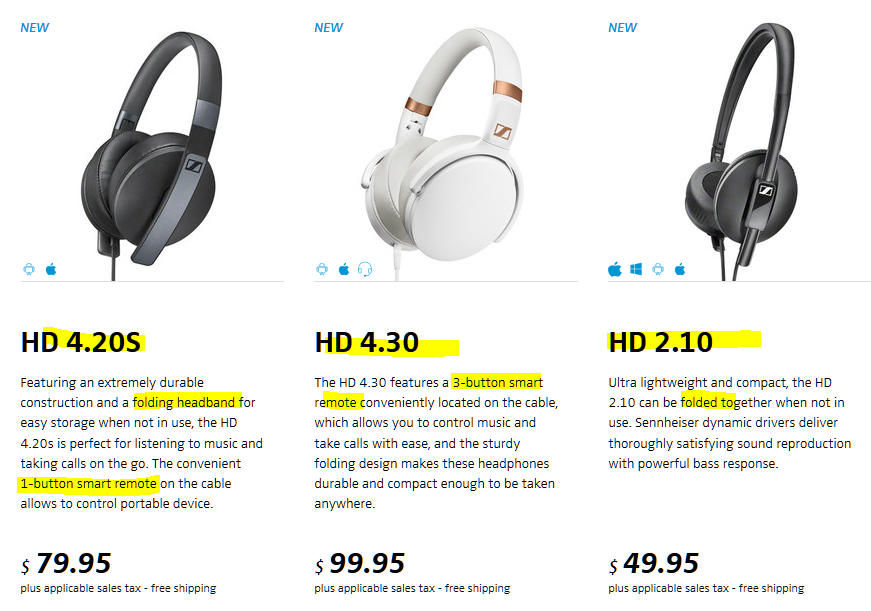 TWO NEW RHA IN-EARs and a PORTABLE DAC/amp
RHA Audio of Scotland launched two new in-ears and one DAC/amp at IFA 2016. The portable DAC/amp is the Dacamp L1 is a portable and balanced, with DSD support and can go up to up to 32-bit/384kHz. The starting price is $550 with an October release estimate.
Ceramics, no, we are not at Macy's, but it's the dynamic RHA CL1 ceramic in-ears with a $450 starting price and an October release estimate. Detailed specs at the RHA website.
Last of the three is the new CL750 in-ears with dynamic transducers, with a starting price of $150 and also an October 2016 release estimate. You can see technical details at their website.
These are covered online at CNet News
A five minute video looking at these three products at the YouTube channel of Matteo Doni, followed by a 30 second teaser by RHA.
NEW SONY MDR-Z1R FLAGSHIP HEADPHONE
We have peak-TV and we have peak-Headphones these days. Sony is launching a new $2300 flagship closed-back over-ear headphone, the MDR-Z1R, a made in Japan headphone, with 70mm drivers, detachable cable, 60 ohm impedance (at 1kHz), 100 dB/mW sensitivity, and a …4 Hz–120,000 Hz frequency response. That's 54.54 Hertz per dollar 🙂 The power handling capacity is 2,500 mW per the press release which is where the picture below comes from: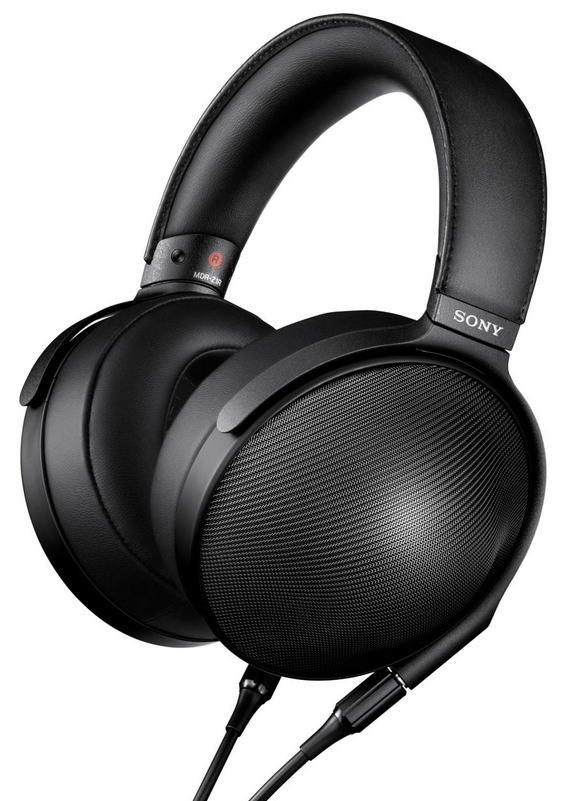 The YouTube videos about it at the moment are from Sony, looking at Sony/Taiyo manufacturing and their Signature series…
The headphones were featured in the Sony IFA 2016 keynote, I haven't watched them yet, so I don't know where they are mentioned. There is a 55 minute version and a 35 minute version.
If you prefer reading instead of watching, there's a dedicated Sony page for them, along with some coverage at tech websites like The Verge.
The new MDR-Z1R is available for pre-order for $2200 at Amazon by Amazon actual. No release estimate is given.
B&W TAKES A PAGE FROM THE V-MODA PLAYBOOK with P7 BLUETOOTH
V-Moda had a success story with the Crossfade M-100 with audiophiles of the friends-of-bass kind, so they carefully and gingerly added bluetooth the M-100 making it the Crossfade Wireless and at the same time dropping the price of the wired model, thus partially countering the "bluetooth panic".
Bowers and Wilkins are following a similar strategy with the closed-back fashionable P7, by launching a bluetooth version of the P7 for $400, while the wired version goes for less, partially pleasing both "bluetooth camps". Press release picture below: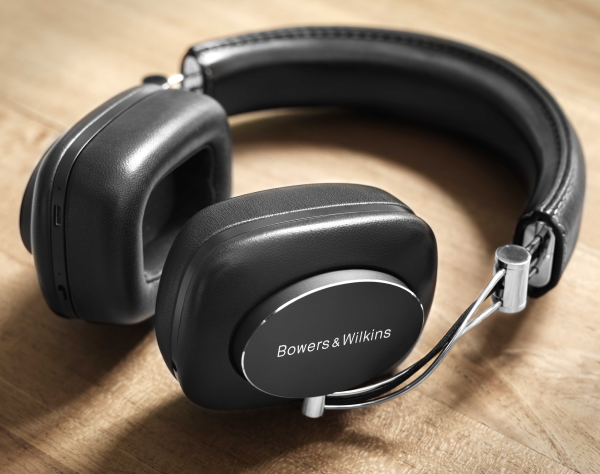 Here are some video previews on YouTube from retailer Abt Electronics, an unboxing and a preview…
If you prefer text and pictures instead, there are some introductory tech-blog write-ups on these at Circuit Breaker and CNet along with the product page with more details at B&W's website.
Surprisingly perhaps they are in-stock for $400 right now by Abt Electronics and available for pre-order with a mid-September release estimate at Amazon by Amazon actual.
SENNHEISER HD-5XX LINE-UP GETS FOUR NEW MODELS
The previously-current Sennheiser HD 5XX line-up consisted of three open-back over-ear models, the 518, 558 and 598 (okay, maybe 3.5 models with the Special Edition). Their sales the last few months were a hint that something new was coming, and it has indeed arrived! Only this time it is an over-ear quartet, and the fourth one is a closed-back headphone, creating some future confusion 🙂
Screenshot from the Sennheiser below: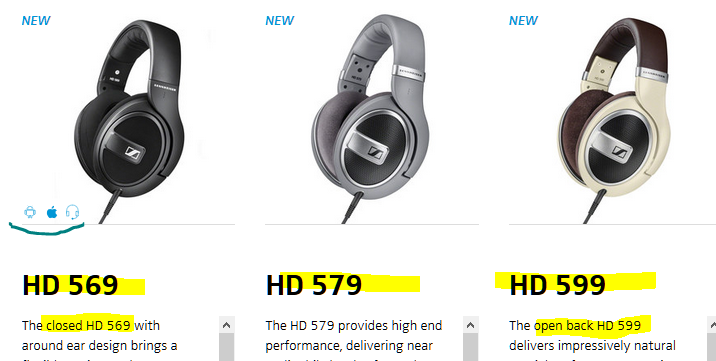 The three open back headphones have 50 ohmage, detachable cable, and nearly identical 106 to 108 dBSPL (1kHz / 1Vrms). They are the HD 559, HD 579, and HD 599, which inherits the non-standard look/style of the HD 598. The first two only get one plain cable, while the 598 gets two. One of the two cables looks like it has a 1-button mic and remote. This is only in the picture at the Sennheiser website, there is no mention of this in the actual textual description.
The closed-back new entry is the HD 569 and has much lower impedance of 23 ohm, and comes with two detachable cables, one plain and one with a 1-button remote/mic. So they are resisting the MFi temptation 🙂
You can see them all at the Sennheiser IFA website. I haven't found any pre-orders yet…
UPDATE: I forgot to mention the prices. The Sennheiser website shows prices ranging from $150 to $250 for this new line, but since none of the online retailers offer them for sale yet, we don't know where they'll start and where they'll settle after a few weeks of being out there.
PLANARIZE YOUR (IN-)EARS with the AUDEZE iSINE 10 and 20
It was bound to happen and it happened. Planar magnetic in-ears! They are obviously not going to be the fluffiest of earphones, but they still go in-the-ear and don't completely cover your outer ear! These are flirting with iPhone/iPad users with Lightning connections and MFi remote with a "24-bit Lightning cable" included. There are two models, the iSINE 10 and the iSINE 20, starting at $400 and $600 respectively.
Details on each model at the Audeze website along with mentions at CNet and Engadget.
Here's a hands-on preview from the IFA trade show floor by Digital Trends:
THE SONY MDR-1000X ANC with BLUETOOTH
Bose is considered by many the gold standard in active noise cancellation, so everyone's gunning for them. Sony has fired another shot in that direction with the new Sony MDR-1000X with not just ANC but also Bluetooth (wireless) and touch-sensitive outer earcups. Early look at them in the videos below from CNet and Digital Trends, followed by the Sony Europe promo. This is very early obviously but the CNet guy thinks they are slightly ahead of Bose. If you prefer to read, there's a write-up with pictures at The Verge and C|Net. The starting price is $400 and they are available for pre-order in two colors at Amazon.com.
MORE NEW HEADPHONES – LIGHTNING ROUND
There are so many things, I can't give each new item its own section, so in this segment, it's a bit of a lightning round, each item gets one paragraph only…
Plantronics is back with another set of bluetooth earbuds, this time they are glued to a neckband, the BackBeat 100 (Oasis reminder?). Details at CNet and the manufacturer's website.
WEARABLES and HEARABLES
Bragi is taking their smart earphones to the next level as they are partnering with IBM's Watson AI super-computer thing to reach new levels of Big Brother 🙂 In addition, they are working on their second smart thing, which they named "The Headphone", because Watson couldn't come up with any better names 🙂
Details in text format in the form of two PDF files at their press site. The dates there are European style (day/month/year). They also have a new operating system release for their headphones, something else we need to get used to as headphones get more "digital" 🙂 The price is $120 at the Bragi store.
If you prefer a more visual format, they also have a splashy colorful webpage for the Bragi "The Headphone". Also, they have a 94 second video teasing it:
ODDITIES and STRANGER THINGS
In this segment we have unusual, off-the-wall, and unexpected things, starting with a $3000 speaker that shows lyrics. The lyrics are on its surface, it's not like looking at the lyrics on a smartphone screen. Not that that justifies the price. Details at CNet.com.