And here we are again! Another CES 2018 trade show is upon us and with it we have another wave of new headphones. Some are revealed in Las Vegas at the trade show, but that's not all. A lot of the smaller audio companies can't afford the lavishness of Vegas, but they also announce new products to coincidence with CES, and of course the start of a new year.
LATEST UPDATE: 1/15/18 at 6:30pm ET: CES 2018 may be over, but I continue to slowly add new headphones to this list…
CES 2018 HIGHLIGHTS
AKG launches $1000 N5005 IN-EARS
Top prices continue to keep pushing up with both over/on-ears and in-ears, so $1000 earphones are no longer the big shocker they used to be. Still a shocker to the wallet to be sure though 🙂 Per the press release the new AKG N5005 have five drivers (quad BA and 9.2mm), four sound filters (including a "reference" option), two detachable cables, various eartips, carrying case and such. They also come with a bluetooth dongle, so fans of bluetooth will not feel left out 🙂
The press release also cites this research paper by Sean Olive and friends, "A Statistical Model that Predicts Listeners' Preference Ratings of In-Ear Headphones". The paper is behind a membership/pay-wall. I do not know if local libraries provide access to AES (Audio Engineering Society) research papers.
They have a 1.5 minute YouTube video showing multiple views/angles of the earphones.
With an array of different cables, ear tips & audio filters, the new #AKG #N5005 lets you completely customize your listening experience. Welcome to the new age of #audiophile. #CES2018 #HarmanCES https://t.co/xa7SCwuMch pic.twitter.com/qZbDgr5PIW

— AKG by HARMAN (@AKGaudio) January 12, 2018
The AKG High Res Audio page also mentions the N25 and N30 models which are available in Japan but show as a non-committal "coming soon" at the US AKG website.
STATUS AUDIO BT ONE
Status Audio, more famous for their OB-1 and CB-1 over-ears is back on the on-ear train with a new bluetooth release this time, the "BT One", a closed bluetooth 4.1 headphone with a promise of a 24 hour battery life at max volume (make sure you are not listening too loudly though!), with micro-USB charging. It also plays music via 3.5mm and it includes both 3.5mm and USB cables along with a hard shell case. The starting price is $99, available in Spring in two color schemes.
This is an unapologetically V-shaped headphone, the "Sound Signature" graph on their website says so emphatically 🙂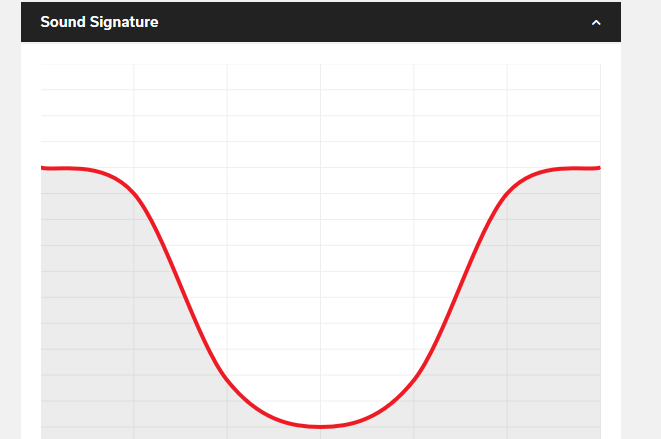 AUDIO TECHNICA REVEALS 11 NEW MODELS
Audio Technica too had a high volume of new products. Unlike Monoprice [see below] which was a "Big Bang" since they expanded in many different new directions, A-T simply released more and more and more, one of their specialties.
You can find them all (at least the ones I found) at the Audio Technica at CES 2018 round-up. Here's a summary:
+ ATH-ANC700BT ANC/BT Over-Ears
+ two ATH-WS bluetooth over-ears
+ neckband BT earphone with "Pure Digital Drive"
+ four BT earphones and two exercise ones
+ an on-ear bluetooth
+ the ATH-ADX5000 had been revealed in late 2017
Monoprice goes wild with new products
Monoprice has revealed so many new products at CES 2018 that I put them in a separate post. There are Monolith planar headphones, Stage Right studio headphones, along with a variety of DAC/amps from the tiny to the 20 pounder! Here's a summary:
+ Monolith M1060C and M565C Closed-Back Planar Over-Ears
+ new Stage Right studio headphones
+ Monoprice portable USB DAC/amp
+ Monolith THX portable head-amp
+ Monolith Desktop THX DAC/amp
+ Monster 20.5lb Tube Headphone amp
MOSHI Avanti Air channels M&D
Moshi is back with a style-priority headphone, the new Avanti Air that evokes some of the Master and Dymamic designs. It comes with a case and USB-C charging. It is a bluetooth headset with apt-X. It is expected to come out later in January.
Here's a 30-second "gearhead" promo from Moshi that shows many angles/views of the set:
1More takes a stab at More Serious Over-Ears
1More is more famous for their in-ears but they've had some utilitarian-looking consumer-y over-ear headphones. Now it looks like they want to take a shot at a more serious over-ear headphone with their new "Triple Driver Over Ears". Marketing apparently did not want to let go of the name recognition of the "Triple Drivers" associated with 1More.
Per the product description, the three drivers are:
"40mm graphene dynamic driver + ceramic tweeter + passive radiator"
They fold, have a detachable cable, and come with a case. It will be available in two color schemes, with a starting price of $250.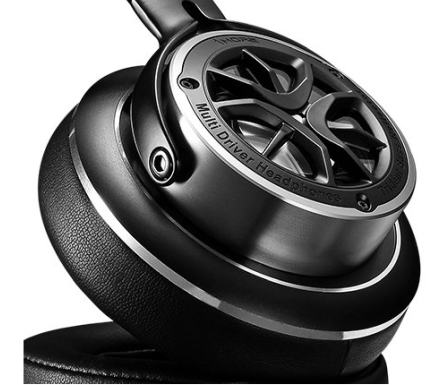 And then there's this version, not sure if it hurts their brand more than it helps them, a $50,000 Swarovski variant. You can buy 5,000 VE Monks+ for the price 🙂
1More reveals Neckband Bluetooth version of Triple and Quad Driver IEMs
The 1More Triple Driver IEMs are perhaps their most successful + praised earphone. And as the "Driver Wars" dictate, they "had to" also release a quad driver version. These two are now getting neckband bluetooth variants, with starting prices, obviously, above their wired-only versions.
Beyerdynamic launching Bluetooth version of AMIRON
Amiron time, this time of the bluetooth variety as Beyerdynamic showed at CES a wireless version of the headphones with apt-X HD support and USB-C charging, along with Bluetooth 4.2. No price yet. It's hard to judge size, maybe it's all earpad on the other side, but the picture show this to be a bit of a smaller over-ear model?
There is a hands-on report for these from CNet at CES.
B&O PLAY H9i and H8i ANC/BT with USB-C charging
Bang & Olufsen's BeoPlay sub-brand is back on with two new headphones. Both feature bluetooth and active noise cancelling. The H9i is over-ears, while the the H8i is on-ears. They support bluetooth 4.2 and the AAC codec, with a built-in rechargeable battery. They have a proximity sensor that pauses them when you take them off. They also play music via a standard 3.5mm input.
Fans of USB-C will be happy because these have a USB-C charging port, not the good old micro-USB. They come with a USB Type A (standard USB) to USB-C cable, so you can connect them to your computer or charger or power bank for charging.
Each one is available in either black or "natural", and their starting prices are $499 for the over-ear (H9i) and $399 for the on-ear (H8i).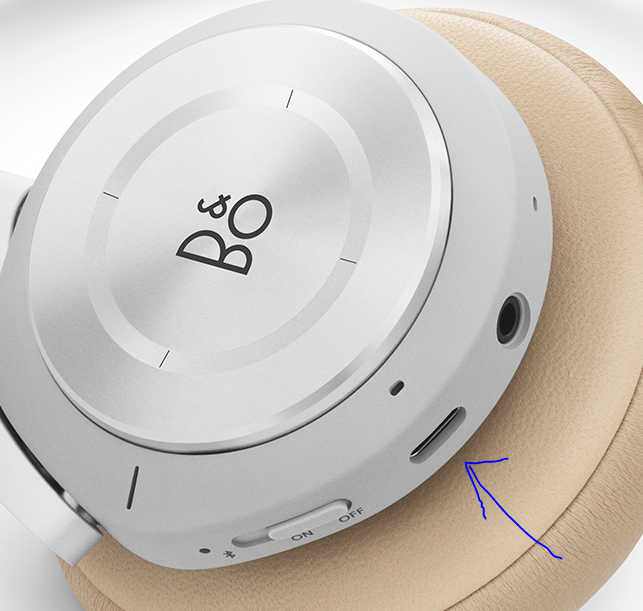 New NAD HP70 ANC/BT OVER-EARS
NAD is joining the CES party with a new headphone, competing in the ever-so-popular ANC + BT over-ears segment with their new VISO HP70 wireless (press release) model. But that's not all, this also works as a powered headphone ("Active" mode) without ANC or bluetooth running. They call this "Tri Mode". Not only that, but this can also get audio from USB while charging – or a 3.5mm input.
It supports apt-X HD up to 24-bit and weighs 11.3 ounces. Tri Mode means tri-price, it will ship in February with a $399 MSRP.
It is certainly trying tick a lot of checkmarks, only time will well how well it does. If it performs well, it could be a "do it all Paul" type of a headphone for listeners who prefer to use one headphone for everything (or many different listening scenarios).
More details on the NAP product page.
Shure re-launching SE 425, 535, and 846 with Universal and Bluetooth cables
Also coming in "Spring 2018" according to the Shure website will be a refresh three of their SE-series earphones. The refreshed package will include two cables, the universal switchable iOS/Android mentioned below, along with a bluetooth cable, giving them bluetooth earphones when you need to (and switching to wired audio cables for regular use).
These will continue to have detachable cables, fear not, they are not turning them into bluetooth only 🙂
Speaking of Shure, their blog has a handy post, seven ways to make your earphones last. Wait five minutes, and then check the forums for threads discussing which type of rice is the most audiophile rice for absorbing moisture and improving the sound of your earphones 🙂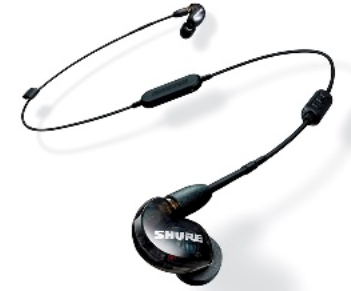 SHURE launches $99 USB-C Cable
Shure has a bit of niche of their own with cables of different kinds, including a Lightning Cable for iPhones, but now that more and more smartphones are abandoning headphone jacks, they decided the time was right to launch a parallel $100 USB-C adapter with a built-in DAC/amp and MMCX connectors. They also launching a new universal MMCX earphone cable that allows you to switch between iOS and Android button functionality. Could be handy if you switch between iOS and Android on a regular basis.
Not much is known about this yet, but their website estimates a "Spring 2018 release".
Just announced at #CES2018! New USB-C and Universal cables for our SE series earphones. Visit booth #16744 today! To learn more, visit https://t.co/wo9nLItRNm pic.twitter.com/PalOaaVSC9

— Shure (@shure) January 10, 2018
QUALCOMM PROMISES BLUETOOTH POWER SAVINGS
Qualcomm is promising power savings with bluetooth audio using their brand new QCC5100 Series System On a Chip. The series currently has two SoC options. This supports Bluetooth 5.0, apt-X and apt-X HD, and a variety of both Standard and Low Energy profiles.
AUDEZE offers a more affordable Planar Earphone
Not want to be undercut dramatically by the cut-and-paste machine of Monoprice, Audeze is back with a new planar-magnetic earphone at CES 2018, it is the new "iSine LX", a $199 model, based on the previous models but with a more fashionable look. Optionally you can get it with the Cipher Lightning Cable for $259 (for direct connection to newer iPhones). They are described as semi-open at the product page.
UPDATE: they are now in-stock and shipping from the Audeze Amazon store (Prime eligible).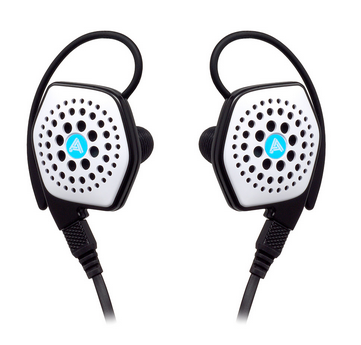 SENNHEISER HD 820 – the NEW CLOSED FLAGSHIP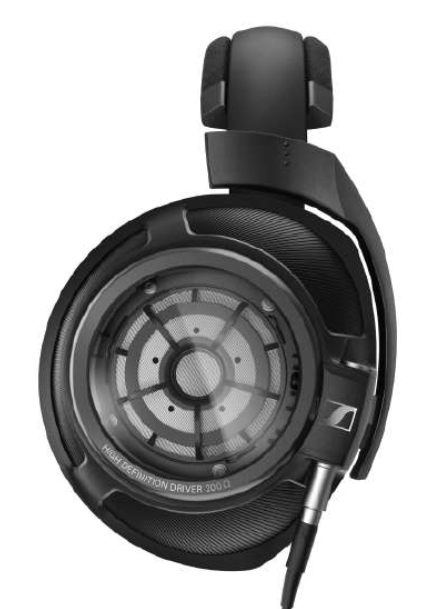 The big news of CES 2018 so far has been the official announcement of the new Sennheiser HD 820 which was rumored, at least in name, in late April 2017. But now it's for real!
Despite that "into the great wide open" headline at the Sennheiser website, these are actually closed back headphones, unlike the HD 800 and 800S. They are dynamic with a 300 ohm impedance. It even has gorilla glass (no, it's not a smartphone!).
Patience is a virtue for this model, it will be released in the early summer of 2018 for $2400 in the US and 2400 euro in Europe. That is also the price of the Sennheiser HDV 820 Headphone Amplifier, which rhymes in number with the new headphones. It has a variety of inputs and outputs, as expected at this price tier, with support up to DSD 256 and 32-bit 384 kHz. The DAC/amp though is already in-stock and shipping. Both have Pentaconn connectors.
SENNHEISER joins the $100 BLUETOOTH EARPHONES PARTY
The $100 price tier for lightweight bluetooth earphones is highly contested with many competitors, including Beats X, Jaybird X3, and more. Now Sennheiser has inserted a new competitor in this segment, their brand new CX 6.00 BT (bluetooth) with support for bluetooth 4.2 and apt-X. It promises up to six hours of battery life, with a 1.5 hour recharge time.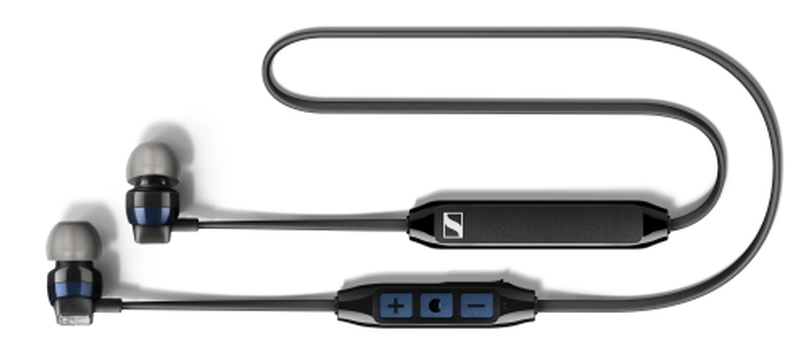 The price is $100 in the US and 100 euro in the EU and it is expected to come out later January 2018.
Sennheiser had previously quietly released late last year another model in this late, the neckband CX 7.00 BT. Neckband bluetooth earphone are another popular segment among the general population these days.
TRULY WIRELESS
The"truly wireless" segment is another one that is enjoying popularity these days, with many known and semi-known, and unknown companies jumping in the game.
Jabra is one of the players, and they have revealed their brand new Elite 65t with a starting price of $170 and they already have a first impressions review at Engadget.
MUSIC NEWS
The high resolution music streaming competition in the US market is going to heat up, as the French/European service QoBuzz is planning to launch in the US following their expansion to some of the major European markets.